Sphire plans to spark change in Highlands Football community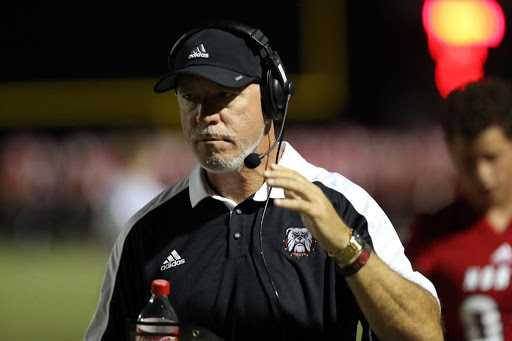 As the bright lights shine on the football field, coaches run up and down the sidelines yelling out plays, formations, commands, and at the referees. One man who knows all too well about that experience moved into the Fort Thomas community this past week. 
     Bob Sphire was recently announced as the new head coach for the Highlands High School football program. Sphire grew up in Meade County and is heavily invested in being a coach. His high school coaches were extremely important to him when he lost his father at fifteen years old.
     "My high school coaches were probably the number one source of support," Sphire said. "Making me feel like I had someone in my life… that was huge." 
     Those men were a large factor that made him want to coach football. 
     John Proctor, Sphire's head football coach during his freshman year was one of his biggest influences in life and in football. Proctor was also the man who gave him the opportunity to come back and be the offensive coordinator for his staff. Jim Devries, the varsity head coach when Sphire was on the varsity squad, was also a large factor in Sphire deciding to coach football. 
     "What's interesting is when I first took this job they, were two of the first people to congratulate me," Sphire said about his former high school coaches. 
     Sphire has made a lasting impact on the programs he has coached before Highlands. Sphire was inducted into the North Gwinett (GA), Lexington Catholic (KY), and Mead County (KY) halls of fame for his tremendous accomplishments as a coach and mentor. 
     "I've been so blessed to coach so many good young men, coaching so many good programs." 
     Everyone heavily involved in high school football recognizes the name "Highlands Bluebirds." Sphire recognized the name since the day he started coaching in Kentucky. He said this was one of the reasons he wanted to come coach at Highlands. The community, school, players, and parents all have high expectations every year for the football program. He wants to meet and exceed those expectations.  
     At practices, Sphire makes sure he assures the players he will acknowledge when he is wrong and when the players are wrong. Honesty and trustworthiness are key components coaches need to bring to be successful, he believes. Sphire turns high school teenagers into well rounded men. An example of this is Highlands' very own athletic director, Wes Caldwell. Sphire has also coached young men who went on to be assistant coaches at some of the top collegiate programs in the country. 
      Sphire, a very educated football coach and man, looks to turn the Highlands High School football program around and make them a winning team.
Leave a Comment