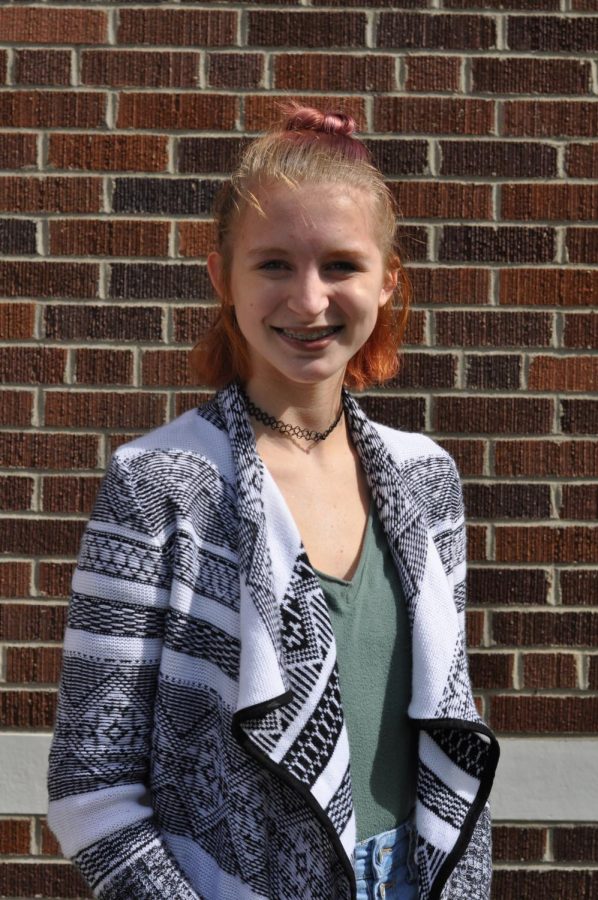 Tessa Killen is a sophomore on the Highlands High School journalism staff. She began writing in the 7th grade when introduced to the art of playwriting and directing. She took off with writing several adaptations of classic fairy tales including Peter Pan and The Little Mermaid. Her form of writing shifted from scripts to short stories during her freshman year. She joined the creative writing club to learn new techniques in storytelling. During her Pre-AP English I class, she found herself writing poetry and more short stories.
Throughout her freshman year, Tessa fought for a creative writing class and was hoping it will follow through. Unfortunately, the class did not happen. However, she was still able to fit a writing class into her schedule: journalism.
It's hard for her to transfer her writing style from fictional storytelling to news coverage, but she is learning fast and really enjoys the challenge. She is the vice president of the creative writing club this year and really enjoys letting loose and going back to her roots with fun, fairytale-like stories.
Despite it being a challenge, Tessa is very excited to start her journalism career at HHS.
Tessa Killen, Staff
Nov 06, 2020

The unspoken rules of Highlands student parking

(Story/Media)

Oct 28, 2020

The return of Highlands wrestling

(Story/Media)

Oct 21, 2020

2020 has gone too far: The end of "It's The Great Pumpkin, Charlie Brown"

(Story)

Sep 29, 2020

Hail and lightning abruptly conclude freshman soccer game

(Story/Media)

Sep 22, 2020

Highlands Volleyball dominates Newport High School 5-0

(Story/Media)

Sep 10, 2020

The Young Vote: How we can make an impact in the 2020 election

(Story)

Sep 04, 2020

UPDATE: The Return of Fall Sporting Events

(Story)

Apr 20, 2020

URGENT UPDATE: Governor Beshear extends NTI program to the end of the school year

(Story)

Apr 02, 2020

URGENT UPDATE: Governor Beshear further extends NTI days in daily COVID-19 update

(Story)

Mar 24, 2020

Voices from home: How are you preventing cabin fever?

(Story)

Mar 20, 2020

Governor Beshear extends NTI days in COVID-19 update

(Story)

Mar 18, 2020

The changes keep coming: Covid-19 rocks Prom and Prom to Dawn

(Story)

Mar 16, 2020

Voices From Home: How is your first day of NTI going?

(Story)

Mar 13, 2020

Q&A Recap about the Non-Traditional Instruction Days

(Story)

Mar 05, 2020

ACT Preparations: What can you do to improve your score?

(Story)

Jan 30, 2020

Highlands High School manages student badges for the first time

(Story)

Dec 17, 2019

Voices in the Hall: What are your plans for winter break?

(Story)

Oct 31, 2019

Trick or Treat!

(Story/Media)

Oct 31, 2019

This Marks the End: HHS Volleyball Tournament Wrap Up

(Story)

Oct 16, 2019

"A Huge Target has been put on our Backs"

(Story)

Oct 14, 2019

The Blink Festival Lights Up Cincinnati

(Story/Media)

Oct 10, 2019

HHS Triumphs against NCC in the District Championships Finals

(Story)

Oct 09, 2019

Counterpoint – How the ACT Policy Change Could Affect College Scholarships

(Story)

Oct 07, 2019

HHS Orchestra travels to Toronto

(Story/Media)

Sep 09, 2019

Highlands Volleyball dominates Dixie Heights with school spirit

(Story/Media)

Aug 25, 2019

Dresses on a dime

(Story)

Aug 15, 2019

Students Head Back to School

(Story)

Apr 29, 2019

Senior Week – Pajama Day

(Story)

Apr 19, 2019

The History of Earth Day

(Story)

Mar 15, 2019

Juli Russ Speaks Out: "We are the generation that will be affected most"

(Story)

Mar 04, 2019

Birds Get Cutoff by Colonels in the Regional Tournament Semi-Final

(Story)

Feb 28, 2019

Highlands Sweeps Holy Cross at Regional Tournament Quarter-Finals

(Story)

Feb 26, 2019

Cooper Cages the Birds in the Regional Quarter-Final

(Story)

Feb 14, 2019

One year ago, tragedy struck: The Marjory Stoneman Douglas High School Shooting

(Story)

Feb 08, 2019

Counselor Appreciation Month

(Story)

Dec 12, 2018

Dayton Devils Dominated by Highlands

(Story)

Nov 09, 2018

Should Your BMI be TMI?

(Story)

Oct 26, 2018

Teachers' interests in music

(Story)

Oct 23, 2018

'We ain't done yet' – Bluebirds advance to state semi-finals

(Story/Media)

Oct 17, 2018

Birds blow out St. Henry 9-0 in first region game

(Story)

Oct 15, 2018

Winkler hits with hard work

(Media)