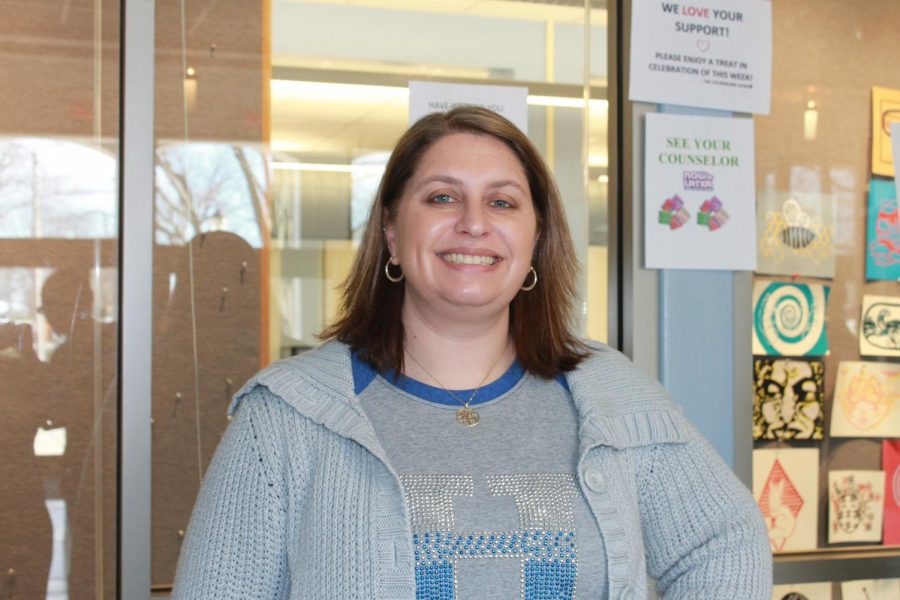 Trinity Walsh
Students are on Schoology for at least seven hours a day, five days a week. They are searching for class updates, homework assignments, materials for class, etc. But through the midst of these course updates, a message may pop up from Trinity Walsh, a college and career counselor for all grades at Highlands High School.
In the small office right off the main lobby, Mrs. Walsh is constantly making sure that students are at ease when trying to find proper careers and perfect colleges. Almost daily, Mrs. Walsh is posting information about foreign language careers, special events for colleges, dual credit options, college fairs, and more. Every day she thinks about the student body.
During her high school career, Walsh had an interest in the performing arts. She was the stage manager for every single production starting her sophomore year.
"I loved everything about stage production, but the only reason I didn't do it was because I was too afraid that I wouldn't find a job," Walsh explained.
Walsh began her college journey at Otterbein University and majored in music education and theatre production. However, she made a promise to herself- if she did not like music education, then she would switch majors.
Walsh earned an undergraduate degree in music education and was a music teacher and band director. The next step for her was attaining her master's degree. However, a question was posed upon her: what was it about her job that she enjoyed the most?
It was talking and interacting with the students.
From that moment on, she began working on her journey of becoming a counselor.  Luckily for the HHS student body, Walsh found her way to Highlands.
During her second year at Highlands, Walsh experienced something that made the school stand out. Highlands was the only school in the Cincinnati/Northern Kentucky area that was in session during a remarkably snowy day. She knew then that Highlands does not mess around.
Even though Highlands doesn't mess around, Walsh knows how to keep the atmosphere light and fun throughout the day.
Her quirky behavior is a blessing, and she always tries to look on the bright side of things. Expressing funny stories and little fun facts to her co-workers at lunch are her favorite parts of the day.
"If I was on a deserted island and I could pick only one food item, it would be cheese! But peanut butter is a close second," Walsh stated for one of her fun facts.
Walsh also enjoys hearing students share exciting events that happened to them. Remembering those little conversations makes her smile.
Walsh further explained, "When they get into their dream school or earn a scholarship that they weren't expecting, or even get a great grade on a class assignment. When students are happy, I am happy."
Outside of school, Walsh is still on the go. She has three kids and is constantly acting as an "Uber driver."
"They all have lots of activities and events, so I am constantly in the car driving someone to someplace. When I'm not driving or attending one of their events I like to do laundry, clean the house, and make dinner… those are all lies," Walsh explained.
When she does have free time, she treats herself to watching a movie, a favorite activity of hers. Even in college, Walsh loved movies. She worked at a Blockbuster and a movie theatre, and every day off, she brings her kids to the movies. Her favorite show, for 19 years and still running, is "Survivor", and her favorite movie is "Hook."
While working here at Highlands, Walsh has made great friends with students and faculty. The Fort Thomas Independent School District has become a second home for her.
Vice Principal Jeffrey Schneider has been a close friend to Walsh for the past seven years. Schneider states, "Mrs. Walsh is a blast to be around. She likes to keep the mood light, which is always pleasurable when you need to break up some of the mundane tasks we encounter on a regular basis."
Walsh went from a high school stage manager to a music instructor and finally landed as a high school counselor. Her path may not even be over yet with the amount of potential she has.
Walsh stated, "I feel incredibly lucky to work with not only some of the best teachers around but also the best counselors."
The student body at Highlands, however, are the lucky ones. This February, be sure to thank your counselors and appreciate all the care they give you.