Birds Get Cutoff by Colonels in the Regional Tournament Semi-Final
On March 2nd, the Highlands Girls' Varsity basketball team lost against the Dixie Heights High School Colonels in the Regional Semi-Final with a final score of 42 to 39.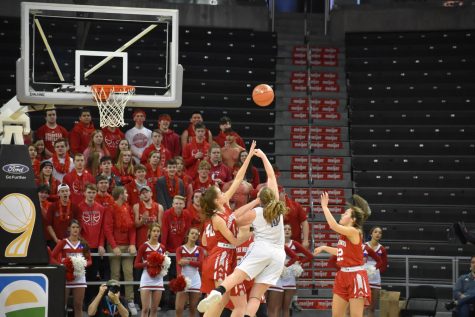 The game started off strong for Highlands when junior Piper Macke scored 3 points in a matter of seconds. In the first eight-minute quarter of the game, Highlands was able to pull to the forefront with a score of 17 to 13, Highlands. In that time frame, both teams earned three fouls.
By the end of the second quarter, Highlands was able to expand their four-point lead to seven points, making the score 22 to 15 Highlands. The Birds earned another three fouls while Dixie Heights earned one.
When the third quarter started, Dixie Heights began to make a comeback and continued to shorten Highlands' lead until taking the lead for themselves.
Junior Nate Gesenhues, a member of the ozone, watched as the Birds began to slow down.
"It's not going to good right now," Gesenhues explained, "Dixie is going on a little bit of a run, but if we maintain our composure then I'm sure we'll be alright and make a comeback."
By the end of the third quarter, the score was 36 to 30 Dixie Heights. The Birds managed to only earn one foul while the Colonels earned five.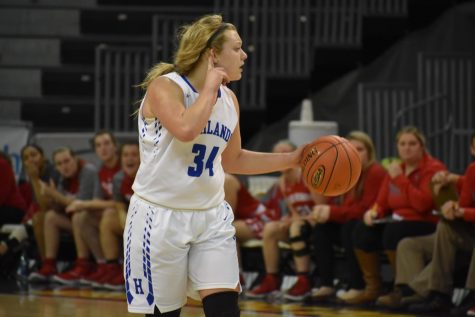 In the fourth quarter, Highlands was trying to pull back the lead. The game became extremely close, with Dixie only holding on to either a 2 or 3 point lead.
Kevin Nieporte, the athletic director at Highlands, could feel the tension.
"We are going to need some points. We are looking for a bit of a come back if we are going to win this. Hoping for the best," Nieporte stated.
Throughout the quarter, both teams were constantly calling timeouts. The game was getting chippy as well with Highlands earning seven fouls and Dixie Heights earning three.
However, the Highlands Bluebirds were not able to gain back the lead. The final score of the match was 42 to 39 Dixie Heights.
Leave a Comment