#AskAbby: Bowling birds represent in state tournament
On Monday, March 22, the Highlands girls' bowling team travelled down to Louisville, Kentucky to compete in the KHSAA 2021 Bowling State Tournament that took place on Tuesday, March 23. 
The Birds left after school on Monday in order to get to Louisville in time for their practice slot at Executive Strike & Spare. During that practice, the Birds were able to get a feel for the approach and the new oil pattern. They didn't have a lot of time to adjust, but Coach Andy Eckerle had high hopes. 
"I feel like the lanes [were] to our advantage," Eckerle stated. "I [had] confidence in both our consistent bowlers and rookie bowlers."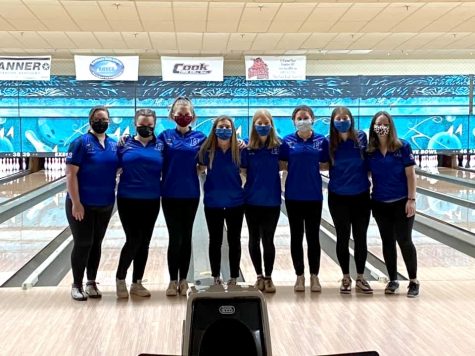 The State Tournament opened its doors for athletes at roughly 8:00 a.m. There, the Birds could prepare for the long tournament ahead of them. The State Tournament is structured in a similar fashion to the Regional Tournaments. One game is bowled for seeding for each team, and baker style knockout rounds commence for the majority of the tournament. To move on, bowlers have to win three out of the five baker games.
The Birds bowled a consecutive series of 782 and seeded 13th. They went up against the number four seed, Harrison County.  In 2019, the girls team seeded 15th and took out Harrison County who was the number two seed. The Birds planned to do that again. 
Senior McKenzie Nehus was a first-year bowler and was mentally preparing to sub in during the baker games. 
"It was intense seeing all these competitive teams in one room. We gathered ourselves and used that energy to cheer each other on. My voice [was] definitely raspy from screaming and cheering on my team," Nehus explained. 
The Birds' baker line-up included juniors Kristen Egan, Madison Clore, and seniors Amanda Parrott, Tessa Killen, and Abby Bach. They started off strong by winning the first two baker games with a 190 and 175, respectively. During huddles in between matchplay, the Birds thought of a motto that encompassed the team dynamic: #AskAbby. For every match and tournament, Bach stood behind her team ready to coach and answer any questions. Bach continued that position throughout the state tournament as well.
 Unfortunately, the Birds couldn't pull out the last win in order to move on. Harrison County found their stride and won the final three baker games, moving on to the quarter-finals where they were taken out by Boyle County. 
Despite this, the Birds left with their heads held high, and gave all the luck to Bach who was competing later in the singles tournament. 
Once again, the state singles tournament has the same structure as the regional singles tournament. Each athlete bowls three seeding games, and the highest eight consecutive series move on. This pattern repeats with two more seeding games and the top four move on. From there, knockout rounds commence to crown the champion of the tournament. 
Bach began bowling at the age of six for pure fun. Her friend convinced her to join a recreational league, and, from there, it was history. She continued to bowl recreationally until she joined the Highlands bowling team in seventh grade. Within competitive bowling, her technique and form sky-rocketed. By her sophomore year, she completed one of the biggest achievements in bowling: scoring a perfect 300. Other than that, Bach stated that her greatest achievement was winning the region five singles tournament this year. 
Bach was the only Highlands bowler competing in the singles tournament. She started off a little shaky, but found her grounding, bowling a 180 thanks to a strike series at the end of the game. She then moved to her next lane assignment and bowled an outstanding 243. 
"Can't we all just stay on this lane?" Bach teased her fellow region five singles athletes. They all agreed, as they all bowled high 200 games.Not only that, they had the only 200 games for the second seeding game throughout the entire tournament. 
Bach then bowled a 169 for her final game, rounding out her series with a 592. She seeded fourth and was able to move on to the top eight round. 
For the top eight rounds, Bach bowled a 252 and a 203, having the highest two-game series with a 455. She was seeded second with a 1047 series overall. 
"I'm excited for Abby. She's worked hard to get here. I wish I could bowl a 1047 series after five games," Eckerle cheered on.
Spectators were limited, so the rest of the team cheered on Bach via a Snapchat group chat with Parrott and Killen, the only Birds there, sending updates with her progress. Parrott occasionally showed Bach the words of encouragement during the brief downtime she had. 
"I was pretty sure I would make it to the top [eight], but when I made top [four], I was just like, 'Alright Abby, it's your time. You can do this. Your high school bowling journey is coming to an end and this is going to be a spectacular way to end it.' It [also felt] really empowering to see my team cheering me on from afar," Bach explained. "We've bonded quite a lot, despite having a strange season this year." 
Bach advanced to the knockout rounds where she faced the number three seed, senior Kaylee Hitt from Campbell County, in the semi finals. Bach and Hitt have had an all-in-good-fun rivalry ever since middle school. Spectators labeled this match as "The end all, be all, or region five."
Bach did not want to step down. She bowled her best game of the night with a 265, which won against Hitt's 180 game. 
With a tired arm and fatigued mind, Bach prepared to bowl against the number one seed, senior Ranelle Ulanday from Cooper, for the championship title. The bowling alley was completely silent as the two faced off. The sound of the pinsetters humming behind the lanes was the only thing that broke the silent ambiance as the two athletes readied themselves. Everyone seemed to be holding their breath.
In the beginning,  Bach was strong with pick-ups and strike series, whereas Ulanday seemed shaky. Bach had the upper hand, but Ulanday wasn't backing down easily–it was anybody's game. Bach's mother watched in anticipation, muttering small coachings as the pressure mounted onto her daughter. Despite the pressure and fight from Ulanday, Bach kept her composure and focused solely on the task at hand. In the end, Bach won the match, and the championship, with a 239 and finished the day with a 1551 series, earning herself an impressive 221 average.
Tessa Killen
"[While I was finishing], I was just thinking like, 'how is this happening? [Oh my god], Abby you did it! Am I dreaming right now?'" Bach explained. 
Bach will be attending Northern Kentucky University after graduation and plans to join the girls' Norse bowling team. Bach hopes to make her future coaches and teammates proud as she furthers her bowling career. With her giant leaps and bounds of progress, she is on the path to be a top contender in the college leagues.
View Comments(1)