Bowling team makes big move
    Known for its fearless football team, the other sports and activities at Highlands High School are oftentimes overlooked. One of these uncredited but mighty groups is the bowling team. 
     Moving locations from La Ru Bowling Lanes to Super Bowl Bellewood over the summer was a big deal for the team. Outside of the move, COVID-19 has also taken a toll on the team and their routine, from practices to matches. 
     With many of their matches being canceled, Coach Andrew Eckerle explained the difficulties for the bowling team because of COVID-19. He said, "We are now restricted to how many players can be bowling on a lane. We have yet to participate in a match, but usually, teams would bowl on the same lanes, and that cannot happen this year." 
     With the players on each team bowling in separate lanes, no spectators are allowed, and fewer cheers allowed, Eckerle suspects these new restrictions will take away from the excitement of matches.
     In addition to COVID-19, the bowling team started practicing at Super Bowl Bellewood instead of their usual La Ru Bowling Lanes. La Ru closed their doors over the summer and left the team without a home. Luckily, Bellewood welcomed the team with open arms.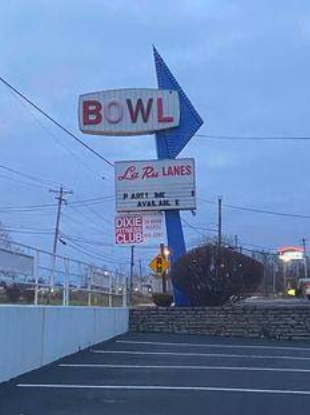 Although Eckerle had no say in the move, he isn't upset with the new practicing place. "I pursued moving to Bellewood because the owners there have always been accommodating," Eckerle said. "It was a pretty easy transition, but La Ru Lanes and the people there will be missed." 
     Many of the veteran bowlers were upset about this move, however, as La Ru had been their home for years. 
     Senior bowler Abby Bach said, "I was shocked that La Ru had closed. I was expecting them to reopen after the shutdown as the other bowling alleys did." 
     The big difference for the team wasn't the location itself, but how the lanes and alleys are made. La Ru had synthetic wood lanes, while Bellewood has just regular wood lanes. 
     "LaRue was much more modern, while Bellewood is a bit older. Typically, newer bowling alleys have synthetic lanes, and I actually like them much more than wood lanes," Bach explained. 
     Despite the unanticipated move, the bowlers are encouraged by their coach and teammates to start the year off strong at Super Bowl Bellewood in the wake of COVID-19.
Leave a Comment