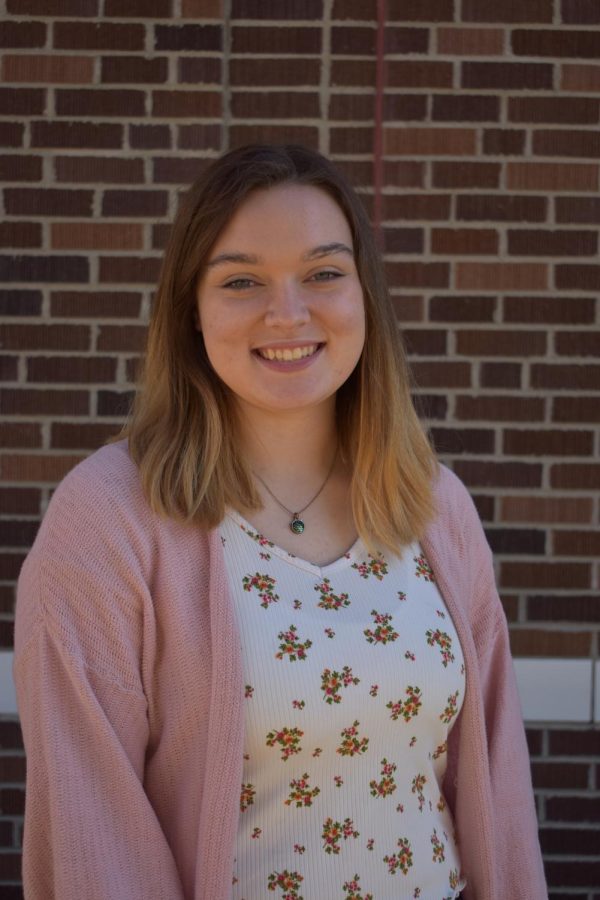 Megan Benzing is the Senior Online Editor for the Highlands High School newspaper, The Hilltopper. This is her second year taking Journalism at HHS and is thrilled about the adventures to come for her final hoorah. Though this is only her second year, Megan is not entirely new to the writing world.
Megan has always had the desire to become a journalist in the future. When she was little, Megan wrote all sorts of short stories with index cards that she would store away in bins. For some constructive criticism, her grandma would read over them and tell her what she would need to add for more context and what needed to be removed.
Megan decided to take journalism in 5th grade at Ruth Moyer Elementary, exploiting her creative mind very early on. She continued her writing journey with some real-world practice, becoming a "Budding Journalist" for the Fort Thomas Matters website.
Throughout her high school experience, Megan has joined or taken part in the National English Honor Society, the Creative Writing Club, and, of course, Journalism. Looking towards the future, Megan plans on majoring in Mass Communications and/or Secondary Education English in college.
Megan Benzing, Hilltopper Editor
Nov 12, 2020

Class of 2022 officers elected

(Story)

Nov 04, 2020

HHS Fall Production, "Middletown" is announced following with guidelines

(Story/Media)

Oct 29, 2020

Varsity volleyball ends season in loss against Cooper at Regionals

(Story)

Oct 15, 2020

Highlands volleyball shuts out Bellevue for seniors' last home game

(Story/Media)

Oct 07, 2020

Highlands Volleyball takes on Holy Cross for a riveting three games

(Story/Media)

Oct 06, 2020

Highlands Soccer Program has a Victorious Weekend

(Story/Media)

Oct 05, 2020

Girls Soccer defeats Second-Ranked Team Lafayette in Saturday Shutout

(Story/Media)

Oct 02, 2020

More than 1,000 new COVID-19 cases in KY in past week

(Media)

Sep 17, 2020

Sam Vinson verbally commits to play basketball at NKU

(Story)

Sep 11, 2020

HHS Ozone: Always ready to be a Bluebird

(Story)

Aug 26, 2020

KHSAA grants HHS fall sports to start competition Sept. 7 as more Kentucky schools fight for their season in Frankfort

(Story)

Apr 22, 2020

Voices from home: Reactions to the extension of NTI

(Story)

Apr 22, 2020

UPDATE: Principal Matthew Bertasso breaks down the end of the NTI school year plans and confirms information regarding the Class of 2020

(Story)

Apr 01, 2020

Curing quarantine boredom: What's up with Netflix?

(Story)

Mar 24, 2020

Voices from home: How are you preventing cabin fever?

(Story)

Mar 20, 2020

Local restaurants switch to carry-out only

(Story)

Mar 16, 2020

Voices From Home: How is your first day of NTI going?

(Story)

Mar 13, 2020

Voices in the Hall: Non-Traditional Instruction Days

(Story)

Jan 22, 2020

Martin Luther King Jr. weekend explodes with energy from Highlands Athletics

(Story)

Jan 07, 2020

HHS Freshman Swim and Dive team splash into Regionals

(Story)

Dec 18, 2019

Running out of time? Do not fret!

(Story)

Nov 05, 2019

Road to State: Varsity Girls Soccer Sports Wrap-Up

(Story)

Oct 09, 2019

Point – The Pros of the ACT Policy Change

(Story)

Sep 16, 2019

FCCLA plans Homecoming, scheduled for September 21

(Story)

Aug 28, 2019

Varsity and Junior Varsity cross country teams start season strong at Moeller Primetime Invitational

(Story)