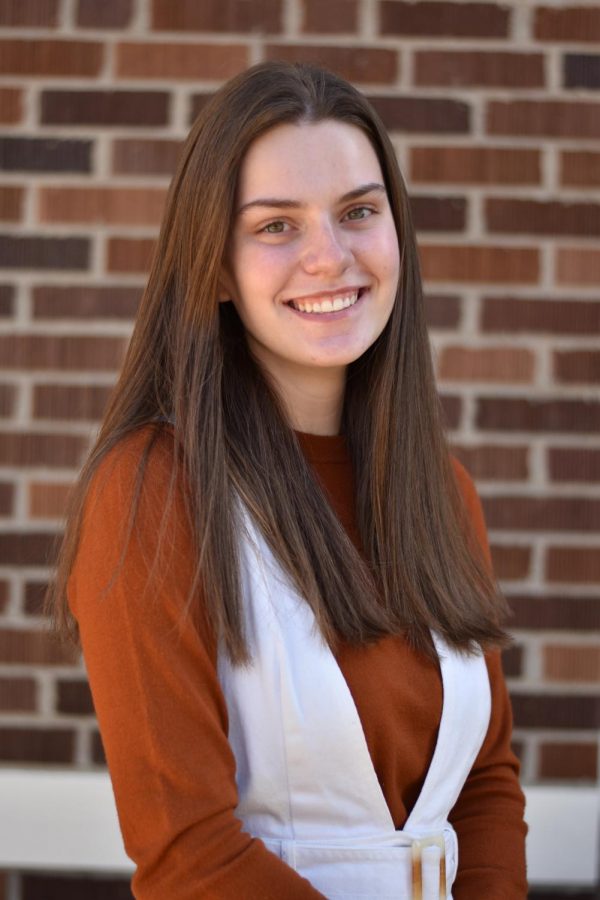 Lexie is a senior this year and is ecstatic to be serving as the Hilltopper's Editor-in-Chief for the second year! Lexie has been writing journalistically since fourth grade when she joined the Journalism Club at Johnson Elementary. After discovering her love for writing there, she began writing as a "budding journalist" for Fort Thomas Matters. She later joined the Highlands Middle School Journalism Program, in which she co-started and co-edited their first online newspaper. 
Lexie has been part of the Highlands High School Journalism Department since freshman year, serving as Photo Editor sophomore year and Editor-in-Chief this year and last. In addition to her love of writing, Lexie has also nurtured a passion for photography by participating in the Envision Project, a selective darkroom photography class for 12 students in the Cincinnati area, for the past three years. She has run her own photography business, Lexie Crawford Photography, for a few years as well. 
Outside of journalism, Lexie is an active member of the Fort Thomas and Greater Cincinnati community. Lexie is the Class of 2021's Treasurer and a Governor's Scholar. She is also a member of the National Honor Society, as well as the National Math, Spanish, and English Honor Societies (treasurer of NEHS). She is a dedicated student and stays busy with many other activities.
Lexie Crawford, Editor-in-Chief
Nov 20, 2020

HHS plunges into NTI again, Prin. Bertasso announces expectations and procedures

(Story)

Nov 18, 2020

BREAKING: Gov. Beshear announces all schools to cease in-person instruction starting Nov. 23

(Story)

Nov 12, 2020

Class of 2022 officers elected

(Story)

Nov 05, 2020

PHOTO GALLERY: Highlands High School's Middletown

(Story/Media)

Nov 05, 2020

Middletown Review

(Media)

Nov 02, 2020

Wassom overcomes near impossible challenges to keep HHS safe

(Media)

Oct 30, 2020

With cases on the rise, following precautions is a necessity

(Story)

Oct 30, 2020

Campbell County becomes red zone county, response to be elevated

(Story)

Oct 22, 2020

My experience with COVID-19

(Media)

Oct 13, 2020

With Privilege Comes Responsibility – three soccer players take a knee, protesting institutionalized racism

(Media)

Oct 10, 2020

Varsity Football crushes Boone County

(Story/Media)

Oct 10, 2020

Marching Band marches in first competition of season

(Story/Media)

Oct 08, 2020

Five fun festivities to enjoy over fall break

(Media)

Oct 06, 2020

Photos: Varsity Girls Soccer racks up another shutout in 3-0 win against NCC

(Story/Media)

Sep 30, 2020

HHS Boys Golf wins 8th Regional Tournament

(Story)

Sep 17, 2020

Sam Vinson verbally commits to play basketball at NKU

(Story)

Sep 02, 2020

BREAKING NEWS: FTIS School Board votes to return to in-person instruction September 17

(Story)

Sep 02, 2020

Highlands Seniors socially distance for the First Day of School

(Media)

Apr 20, 2020

Highlands students accepted to Governor's Scholars Programs

(Story)

Apr 03, 2020

College Board releases remainder of information on how COVID-19 will affect AP Exams

(Story)

Apr 01, 2020

Spring sports suspended indefinitely by KHSAA due to COVID-19

(Story)

Mar 24, 2020

Five activities to remain social while social distancing

(Story)

Mar 20, 2020

AP Exams change in the midst of COVID-19 turmoil

(Story)

Mar 16, 2020

Five activities to do while quarantined

(Story)

Mar 13, 2020

COVID-19 rocks education at Highlands High School

(Story)

Jan 30, 2020

Highlands High School manages student badges for the first time

(Story)

Jan 29, 2020

Birds win nail-biting game against NCC

(Story)

Jan 22, 2020

Martin Luther King Jr. weekend explodes with energy from Highlands Athletics

(Story)

Jan 07, 2020

Boys Varsity Basketball dominates with 13-0 record

(Story)

Dec 18, 2019

Highlands community reflects on Advisory following first semester

(Story)

Dec 17, 2019

HHS Archery Team sets high standards for the season

(Media)

Nov 07, 2019

The Diary of Anne Frank photo gallery

(Story)

Nov 04, 2019

Competition Cheer Team prepares to head to Nationals

(Story)

Oct 16, 2019

Band program hosts Fall Band Extravaganza

(Story)

Oct 16, 2019

"A Huge Target has been put on our Backs"

(Media)

Oct 16, 2019

Choirs perform first concert, Interstellar

(Story)

Oct 09, 2019

Counterpoint – How the ACT Policy Change Could Affect College Scholarships

(Media)

Oct 02, 2019

Five fun Fall Break activities

(Story)

Oct 02, 2019

Voices in the Hall: Students share Fall Break plans

(Story)

Oct 02, 2019

Students jump into Fall Break

(Story)

Sep 23, 2019

Students show out for Homecoming Spirit Week

(Story)

Sep 15, 2019

Juniors run for class officer positions

(Story/Media)

Sep 10, 2019

Boys Varsity Soccer wins 1-0 over Covington Catholic High School

(Story/Media)

Aug 15, 2019

Students Head Back to School

(Story)

May 08, 2019

Seniors Host "Top of the Cycle" Art Show

(Story)

Apr 29, 2019

2019 HHS Talent Show Gallery

(Story)

Mar 26, 2019

Students take action: March For Our Lives Rally at Tower Park

(Media)

Mar 25, 2019

March For Our Lives Fort Thomas

(Story)

Mar 22, 2019

The 25th Annual Putnam County Spelling Bee

(Story/Media)

Mar 22, 2019

Prom to Dawn Moves to NKU

(Story)

Feb 14, 2019

Attorney General Andy Beshear Visits Highlands Broadcasting

(Story/Media)

Feb 08, 2019

Counselor Appreciation Month

(Story)

Jan 29, 2019

Freezing Temperatures Foreshadow Possibility of Cancellation

(Story/Media)

Jan 23, 2019

Cincinnati's Martin Luther King Jr. Day – A Student Perspective

(Story)

Jan 11, 2019

Scheduling Begins Next Week: Are You Ready?

(Story)

Nov 28, 2018

Sophomore Maggie Schroeder Runs in National Race

(Story)

Nov 19, 2018

Colonels down Bluebirds in Regional Championships

(Media)

Nov 16, 2018

Blackout Hits Highlands

(Story/Media)

Nov 01, 2018
Oct 18, 2018

Spirit chains create competition for a good cause

(Media)

Oct 15, 2018

Everyone's in Spirit This Week

(Media)

Oct 15, 2018

Orchestra Travels to New York City

(Story)