Birds crush Muhlenberg County in first game of KHSAA Boys Sweet Sixteen
On Thursday, April 1 at 11:00 a.m., the Highlands boys varsity basketball team took on the Muhlenberg County Mustangs in the Birds' first game of the KHSAA Boys Sweet Sixteen. They crushed the Mustangs with a score of 88-60. This win will allow the Birds to move on to the next round of the state tournament: the Elite Eight.
Thanks to Highlands' starters—seniors Luke Muller and Sam Vinson, juniors Oliver Harris and Zach Barth, and sophomore Will Herald—the Birds took an early lead, scoring several points before the Mustangs had a chance to even score one. By the end of the first quarter, Highlands was already ahead of Muhlenberg County by nine points. The score was 26-15, Highlands.
For the rest of the game, the Mustangs had no chances to catch up to nor overcome the Bluebirds. By halftime, the Birds had an even larger lead over the Mustangs with a score of 46-30, Highlands.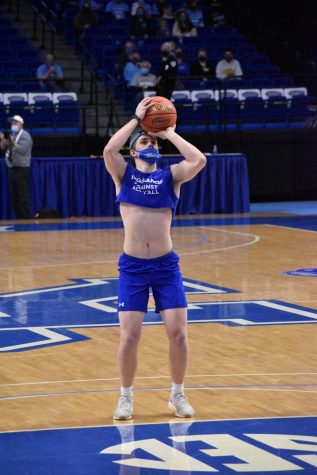 At halftime, Muhlenberg County's cheerleaders entertained the crowd. Afterwards, Bluebird fan senior Jake Fahlbusch competed against a Mustang fan to see who could score the most free throws. Fahlbusch won.
When the game started back up, Highlands continued playing their hardest. Already trailing behind, the Mustangs lost their energy and drive, falling 29 points behind the Birds. The score at the end of the third quarter was 71-42, Highlands.
With only one quarter left and an already large lead, the Birds could have become lazy, but they continued to play their hardest. The energy was high, so the Birds began having a bit more fun. At one point, Vinson had a stellar dunk, sending the crowd into a frenzy and boosting morale even more. The Ozone's cheers were heard throughout the stadium.
Ultimately, the Birds beat the Mustangs by 28 points with a final score of 88-60, Highlands. When the final buzzer sounded, the Ozone rushed down to the guardrail, cheering wildly and high fiving the boys as they exited the stadium.
Vinson has been a key player throughout the Bluebird's season and scored a large portion of the team's points in this game today.
He said, "We played great as a team [today] and got a huge win. We are just going to take it one game at a time and play our game. [I'm] looking forward to the game tomorrow."
The Birds will play their next game on Friday, April 2 at 8:00 p.m. against the winner of the Bullitt East vs. McCracken County game. Tickets will be on sale for Highlands fans following the aforementioned game, which began at 2:00 p.m.
View Comments (1)