Archery Birds take on NASP, ranking nearly 20 places higher than year prior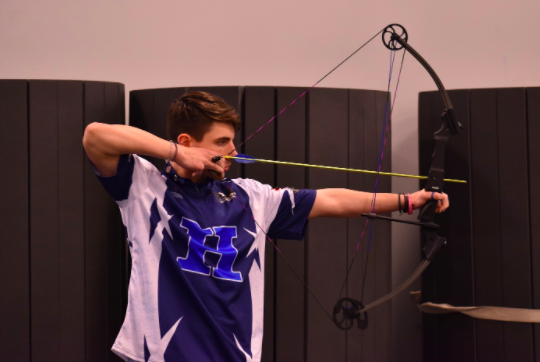 Over the past weekend, the Highlands archery team competed in the National Archery in Schools Program (NASP). It is seen as a big honor to even qualify in this program, and the Highlands archery Birds have seen much improvement from last year's score. 
     Highlands archery coach Dennis Kindoll expressed his thoughts on what makes NASP so influential to many students, "This is a sport where anyone can compete. You don't have to be fast [or]strong, like in other sports." 
     Last year, the Birds placed in the 50s, but over the past weekend, the Birds placed in the top 35 out of 118 teams. This is a big improvement for the Birds, who received a total score of 3325, five points above their goal score. 
     Senior Ethan Stuart, Archery Team co-captain, discussed the team's improvement over these past years, saying, "I feel like we've really started to streamline the process of kind of creating good archers. We had some people that were new on the team that really stepped up for us and came through for us." 
    The Highlands Archery Team started their journey four years ago, and there has been much improvement from the Birds, not just in their shooting, but also in how they interact together as a team. In the beginning of their journey, the Birds didn't know what to expect and what technique to use. 
     Senior Cassandra Erikson, Archery Team co-captain, discussed the team's improvement in her eyes, saying, "In the beginning it was a very new team so the dynamic was very different to what it is today. I love that that dynamic has shifted to something that is very cooperative."
     The archery team continues to improve every year they step up to the target, and we are all excited to see the continued improvement of our Birds!
Leave a Comment