Birds tame another herd of Mustangs, head to Final Four
The Highlands boys varsity basketball team played their second game of the KHSAA Boys Sweet Sixteen state tournament against the Muhlenberg County Mustangs on April 2, at 8:00 p.m. Though it was a closer game than their 88-60 win over another herd of Mustangs from Muhlenberg County, the Birds were still victorious, winning 63-53.
Within the first few seconds of the game, a three-point shot allowed the Birds to establish dominance over the Mustangs. By the end of the first quarter, the Birds still had a three-point lead over McCracken County with a score of 16-13, Highlands.
Highlands kept their lead throughout the game, but the score was close at times. At the end of the second quarter, the score was 31-26, Highlands. The Birds continued increasing their lead, as the score at the end of the third quarter was 50-43, Highlands.
The Birds and the Mustangs continued their battle throughout the fourth quarter, and the score was extremely close at this point in the game. With two minutes and 52 seconds left in the game, Highlands led McCracken County by only two points with a score of 52-50, Highlands .However, a series of seemingly never-ending fouls drawn by the Birds gave them the cushion they needed to sail to victory.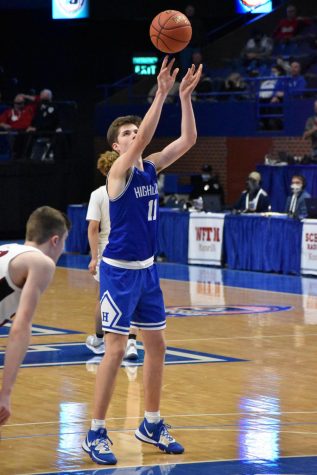 Out of the 15 free throws Highlands had in the final three minutes, they scored 11. Senior Luke Muller led the way in this department, making six out of his eight.
"We came into the game knowing it was gonna be a fight to the finish and that McCracken wasn't gonna go away," Muller said. "We stayed steady the whole game and kept our composure for the most part when we could've folded at some points… We know the challenge we have tomorrow but I wouldn't want to take it on with another group of guys that I can call my family."
The Birds' next game will be April 3 at 2:00 p.m. against the Ashland Blazer Tomcats.
Leave a Comment