Boys varsity basketball crush St. Henry Crusaders 74-68 in regional semifinals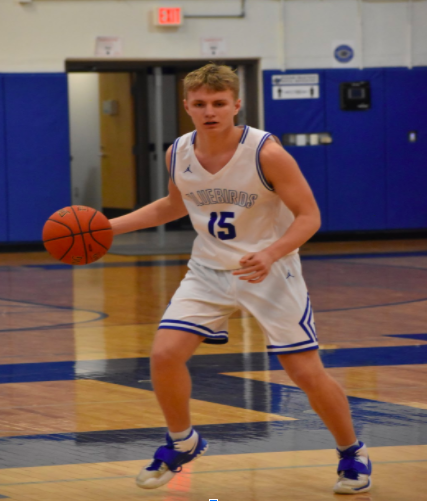 Last night, the boys varsity basketball team took on the St. Henry Crusaders at Holmes for the regional semifinals, winning the game 74-68. The boys went in looking for nothing more than a good game and a win, which is exactly what they got.
     Starting in the first quarter, the Crusaders took on an early 5-3 lead, showing that they were not going to back down at any point in the match. The score then flip-flopped through the entire first quarter until, at the end of the quarter, the Birds began to pull away with their lead, ending 21-19. 
      By halftime, the Birds had increased their lead even further (36-27) and were nine points ahead of St. Henry.
Senior Sam Vinson felt, "…great because we had a nine-point lead, but I knew we couldn't let up and had to keep doing our thing."
     Both teams continued to play hard, and, in the late second half, the Crusaders began to close the score gap to just six points (69-63). Despite this, the Birds were not disgruntled and continued to fight hard and ended on a six-point gap win. 
      Coach Kevin Listerman said, "The game was played at a very high level by both teams. It was physical, it was intense, and it took a full 32-minute effort to win. I was very proud of the boys and the way they handled stuff when they needed to." 
     Overall, all five of the team's starters performed to the best of their abilities and scored points in the double digits. Vinson led the team with 20 points, 13 rebounds, and seven assists while junior Zach Barth had 16 points, junior Oliver Harris had 13 points, sophomore Will Herald had 13 points, and senior Luke Muller had twelve points. 
     Harris said, "We played well last night and I feel the game tomorrow is going to go just as well because we're still focused and ready to win."
     The Birds will compete for the regional championship tomorrow night at 7:00 p.m. They will be playing Conner High School at Holmes for a chance at the title. Previously, the boys faced off against Conner in early February, winning by a narrow margin of 78-75. However, Listerman believes with good defense around the three-point line, the Birds are capable of taking home a win.  We wish them the best of luck as they take on the Cougars.
Leave a Comment