Girls varsity basketball defeats Holy Cross Indians 59-43 in hair-raising game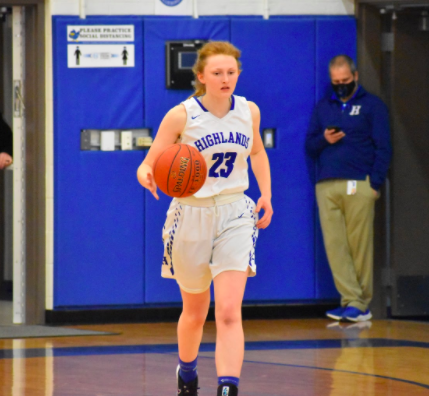 Last night, the girls' varsity basketball team took on the Holy Cross Indians at home, winning the first round of the regional tournament by a large margin of 59-43. 
Despite the win, the game began with a rough start for the Bluebirds, who were down by six points (16-10) at the conclusion of the first quarter. However, through skillfully executed plays, the Birds were able to raise the score to a tied 27-27 by the halftime buzzer. 
The third quarter once again got a little shaky as the Indians pulled back ahead, concluding the quarter with a score of 37-34. 
This didn't dissuade the Birds, however, who played an outstanding fourth quarter and pulled back ahead after Holy Cross's post-player fouled with six minutes left in the game. The quarter ended with Highlands scoring 26 points to Holy Cross's six and winning the match 59-43. 
The team was led during last night's game by senior Emma Mallery who pulled ahead with 16 points and 7 rebounds. Seniors Kelsey Listerman and Emma Riccobene both heavily contributed as well with 13 points apiece, and senior Rory O'Hara finished out the team's top scorers with 10 points. 
Mallery said, "In the beginning, we had a slow start. At one point we were down 12 points, but we eventually caught up to them. It was a game of runs, but we pushed through. Every single play mattered."
Although the match contained quite a bit of back and forth gameplay, Coach Jaime Richey was ultimately very proud of her team and recalls her favorite moment being when the team was down by twelve points but refused to keep fighting. 
Richey said, "We performed enough to win and that's all that matters at this part of the season. It's survive and advance."
The girls will continue their pursuit of the regional title during the regional semifinals on Saturday with a match against Dixie Heights at Holmes High School. The Birds have played Dixie only once before during this season, losing by only three points. We wish them the best of luck and hope that this time they'll be able to pull off the win.
Leave a Comment