Kuhnhein elected as newest Board of Education member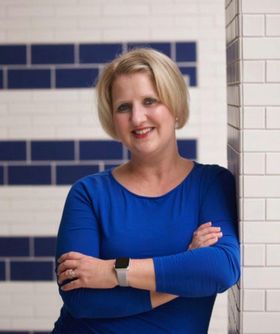 On November 3, 2020, many Americans kept a close eye on the electoral map for the presidential race. Fort Thomas resident Julie Kuhnhein kept a close eye on a different vote count. She watched for Fort Thomas Independent Schools (FTIS) School Board votes. Kuhnhein was up against two incumbents, and though nervous, she stayed positive about what the results would be.
      Kuhnhein's positivity throughout the day and the entire campaign helped her to get the most votes out of all three candidates running. Though the election was extremely close, she received 5,064 votes, 36% of the votes cast.
     About a decade ago, Chris Kuhnhein, Kuhnhein's husband, threw around the idea of running for School Board. However, as he and Kuhnhein talked about it, they realized that she would make a better Board member.
       "That brief flirtation allowed us to conclude that [Kuhnhein] was considerably more qualified to serve on the Board than I ever would be (I'm a business lawyer)."
      However, at the time, Kuhnhein was a teacher at Highlands High School, making her ineligible to run.  Now, as an administrator at a near-by school, Campbell County High School, with two children in the FTIS school district, she is able to run.
      Last fall, Kuhnhein officially announced to her friends and family that she would be running for School Board in 2020. She felt that being on the School Board was the best way she could help the community.
      "I felt that might be the best way to help the students and the teachers in the community was in Board service."
      Since then, Kuhnhein worked to get her name out in the community and help people know that she cares about their opinions.
       Julie Sarakatsannis, a close friend of Kuhnhein who has been involved in the schools with Kuhnhein for several years, said, "She placed signs around Ft Thomas. She held meet and greets at Grassroots and Vine so people could get to know her and her vision for FTIS. She shared her views on social media."
      Kuhnhein's main goal in her campaign was name recognition. Because she was running against current Board members, she knew she would have to do extra work to make sure people knew who she was. She also wanted to help people feel heard.
      "I wanted to make a point that I would talk to and speak with people in the community, and especially people I hadn't met yet, so I definitely had the chance to do that."
      Kuhnhein received a lot of support. She got encouragement from her family, her husband's family, her friends, teachers who she used to teach with at Highlands, and even former students.
      Kuhnhein said, "What was the coolest part were my former students who moved back to Fort Thomas to start their families, my first group graduated in 2002, so they are here, and hearing from them, and getting support from them, has been great."
      On the day of the election, Kuhnhein kept a close eye on the votes. She could see that she was ahead, but she didn't want to get her hopes up. Once she found out that she had not only been elected but also received the most votes out of the three candidates, she was "incredibly excited and humbled."
      After the original shock and excitement of being elected as a School Board member, Kuhnhein shifted her focus to all of the hard work she would be doing. She knows that, in the past, the Board has done lots of work for the district and she wants to help maintain that. She also wants to make sure that she and the rest of the School Board can do the right thing for the community and all of the students.
       Not only does her current job in the Campbell County School District give her experience as an administrator and with Board meetings, but it also helps her bring a fresh perspective. While she acknowledges that our school district is incredibly successful, she also thinks the district frequently isolates itself.
      Kuhnhein said, "I love this community, and I'm here, my husband and my family, we're here for a reason, but sometimes, I do think we don't always look outside to consider what's happening around us, and what we could learn from that."
      Not only does she bring a fresh perspective and education background, but she has also experienced and is still experiencing first-hand how the School Board affects the students and parents in the district. She is one of only two Board members who have children in the district.
      Kuhnhein said, "I have an elementary and a middle school student, so some of the things that I've seen that have been great in that experience and some of the things that I think we can really continue to improve and work on." She has also volunteered and been involved in her children's' schools through working on the Site-Based Councils.
     Kuhnhein has a deep passion for education and helping improve the community. She is excited to have the chance to do so on the School Board. After being in the audience during so many Board meetings, she is looking forward to being in a Board member's chair and helping the FTIS school district.
Leave a Comment