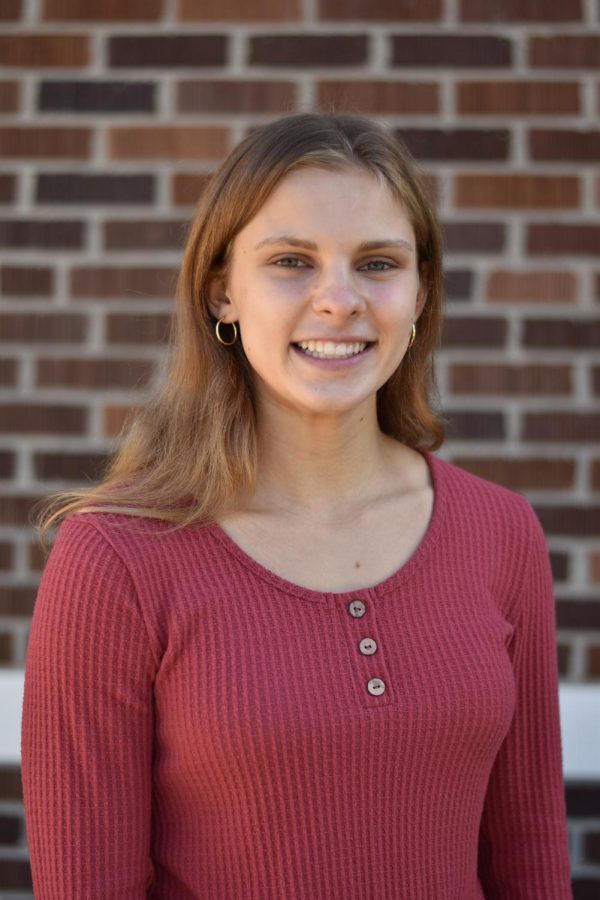 Maggie Schroeder is a fourth year journalism student and also the editor of 
The Highlander 
yearbook for her second year running. She first joined journalism as a freshman after wanting to take ceramics, realizing it had a prerequisite, knowing her artistic ability would fail her for said prerequisite, and settling on the "second best" option. She's now realized that "second best" option was the best option all along and enjoys spending her days on the 
Hilltopper 
and 
Highlander 
staff editing proofs, silently cursing out glitchy Monarch InDesign, conducting interviews, frantically typing away at stories, and snapping photos at various school events.
Outside of her passion for journalism, Maggie is known as both a "runner" and a "horse girl," both titles of which she would prefer to not have (one due to the pain, one due to the meme) but has grown to accept and love. In her free time, it's just a little bit obvious that she'll be found either... running or riding horses... but she also enjoys attempting to cook, watching hours of worthlessly pleasurable TikToks, hanging with her friends (read: Haley), and contemplating the meaning of life on her roof at 2 AM while blasting girl in red.
Although this year is Maggie's last year at Highlands, she's hoping to make it her best both in journalism and out. After high school Maggie plans to go to college (currently undecided as to where) for either pre-medicine or pre-veterinary medicine and just might end up competing in track and cross country wherever she goes.
Maggie Schroeder, Yearbook Editor
Jan 05, 2021

Highlands boys varsity basketball defeats Ashland 84-75 in season opener

(Story)

Dec 04, 2020

Midterm exams set to look different due to NTI

(Story)

Nov 25, 2020

Mediocre Kitchen Madness: Thanksgiving Edition!

(Story)

Nov 16, 2020

PHOTO GALLERY: HHS students sign to collegiate athletics on National Signing Day

(Story)

Nov 10, 2020

FTIS remains open despite local rise in COVID-19 cases

(Story)

Nov 06, 2020

Mediocre Kitchen Madness: November Edition

(Story/Media)

Oct 27, 2020

Cross country teams place second at Regionals and prepare for State

(Media)

Oct 21, 2020

Boys' soccer season comes to an abrupt end with a 3-1 loss against Ryle

(Story)

Oct 06, 2020

Photos: Varsity Girls Soccer racks up another shutout in 3-0 win against NCC

(Story/Media)

Sep 25, 2020

Highlands starts in-person instruction with an untraditional second first day of school

(Story)

Sep 18, 2020

Girls' varsity volleyball team defeats Campbell County in senior night game

(Story)

Sep 16, 2020

FTIS Healthy at School Guidelines for in-person return

(Story)

Sep 09, 2020

Bluebirds tie Holy Cross Indians 2-2 during Senior Night season opener

(Story/Media)

Apr 22, 2020

UPDATE: Principal Matthew Bertasso breaks down the end of the NTI school year plans and confirms information regarding the Class of 2020

(Story)

Apr 02, 2020

Fort Thomas trails highlight

(Story/Media)

Mar 13, 2020

COVID-19 rocks education at Highlands High School

(Story)

Jan 07, 2020

Boys Varsity Basketball dominates with 13-0 record

(Story)

Dec 17, 2019

HHS Archery Team sets high standards for the season

(Story)

Nov 11, 2019

Highlands Bowling Birds strike a victory versus St. Henry

(Story)

Oct 21, 2019

Mid-October Sports Wrap Up

(Story)

Oct 14, 2019

"Out of sight, NOT out of mind"

(Story/Media)

Oct 07, 2019

Highlands faces off with Conner at the Jared Lorenzen Memorial Game

(Story/Media)

Oct 02, 2019

Fort Thomas Independent Schools ranked by the Kentucky Department of Education

(Story)

Aug 20, 2019

Highlands LadyBirds soccer team faces rivals Monday at Tower Park

(Story/Media)

Aug 15, 2019

Students Head Back to School

(Story)

Apr 29, 2019

2019 HHS Talent Show Gallery

(Story)

Apr 12, 2019

Highlands bands together to support organ donation

(Story)

Feb 26, 2019

Highlands swim and dive rules the pool at State

(Story)

Feb 20, 2019

Highxicon Week 4(ish!)

(Story)

Feb 08, 2019

Counselor Appreciation Month

(Story)

Feb 04, 2019

Longtime Friends Cheer Each Other on During Bowl-Off

(Story)

Jan 18, 2019

Highlands vs. Cooper

(Story)

Dec 05, 2018

Highlands Beats Cov Cath

(Story/Media)

Dec 04, 2018

Bluebirds crush Colonels 57-51

(Story/Media)

Nov 29, 2018

Highxicon- Week 3

(Story)

Nov 19, 2018

Highxicon- Week 2

(Story)

Nov 16, 2018

Teachers make the best of the blackout

(Story)

Nov 12, 2018

Welcoming the Highxicon- the sniglets of Highlands

(Story)

Nov 07, 2018

Cross country runner experiences a change of pace

(Story)

Oct 20, 2018

HHS Band fundraiser shows its true colors

(Story)

Oct 18, 2018

Spirit chains create competition for a good cause

(Story/Media)

Oct 15, 2018

Point – 'Excessive' homework is not the issue

(Story)