Virginia tops Texas Tech in NCAA Championship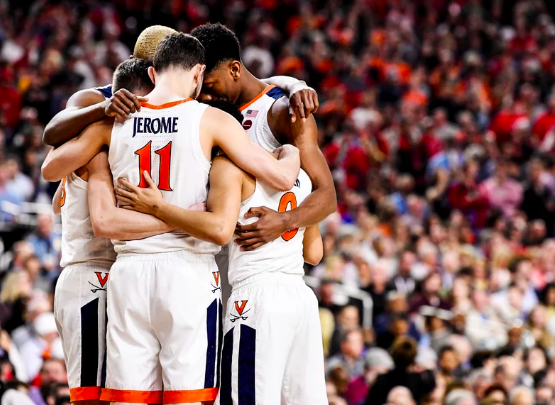 Virginia and Texas Tech beat out some of the best teams such as Duke, Kentucky, Michigan State, Auburn, and more to make it this far in the tournament. Even with Texas Tech being a 3 seed, and Virginia being a 1 seed in the tournament, this is both teams' first appearances in the championship game. Every shot, practice, game, all came down to the final game.
The beginning of the game went as planned, and both teams continued to battle back and forth for the lead. The first half was continuously Texas Tech making shots, and then Virginia. At the end of the first half, Ty Jerome of Virginia made a 3-point jump shot, to send Virginia into the next half with a lead of 32-29.
Coming out hot in the second half, Virginia's Kyle Guy made a 3-point jump shot, with the assistance of Kihei Clark. The start of Texas Tech's possession ended shortly as the red raiders' Tariq Owens had a bad pass turnover, and then he fouled De'Andre Hunter, causing Virginia to have foul shots. De'Andre Hunter then proceeded to make both free throws, causing the score to be 37-29 with 19 minutes remaining. After missed shots for the Red Raiders and a couple of good shots for the Cavaliers, Texas Tech started to come back around the 15-minute mark. Jarret Culver of Texas Tech made two driving layups, and then Kyler Edwards and Brandone Francis proceeded to make 3-point shots before and after De'Andre Hunter of Virginia made his own 3-point jump shot. With little under 9 minutes left, both teams were driven to win. David Moretti of Texas Tech made a running jump shot, then Ty Jerome of Virginia made a fade-away jump shot. When the 3-minute mark came around, many shots were made from Texas Tech, to get the score back up. The second half closed with the score tied at 75-75, sending the game into overtime.
The short 5-minute period of overtime gave both teams a chance to prove their ability to win, and of course, for Virginia's redemption. Last year, Virginia was a 1 seed for their conference and ended up losing to a 16 seed (UMBC), defying history. The teams battled until their last breath, or until the last seconds of OT. Ultimately, Virginia took the win 85-77 and took home their first NCAA championship trophy.
Leave a Comment