Bluebirds crush Colonels 57-51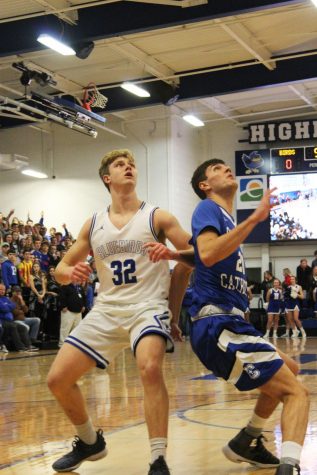 Last night, on December 3, our Bluebirds dominated the Covington Catholic colonels with a final score of 57-51.
The Bluebirds ended the Colonels' 26 game winning streak after taking them down.  Not only did the Colonels' streak end, but it was the first time in school history that the boys' basketball team defeated a defending state champion.
The beginning of the game appeared to favor Covington Catholic, as they got an early jump on the Birds.  At one point, the Birds were down 26-8, losing by a hefty 18 points. At halftime, the score gap began to close at 28-17, but the Birds were still far behind.  
As the 2nd half began, the Birds started to come back and redeem themselves.  With just under 3 minutes left in the 4th quarter, senior Nate Roberts went for a layup, but the ball rolled off the rim and was recovered by senior Ryan Leigh, who tipped it in and turned the score around.
With a close score of 45-44, the Birds continued to please their fans by shooting 12 additional points in under 3 minutes. Covington Catholic could only combat it with 7, which didn't prove to be enough to beat the Bluebirds.
Athletic Director Kevin Nieporte gave some insight on the players, "Nate Roberts really brought the energy to the floor," he praised.  He also stated that both senior Ben Sisson and Leigh scored 18 points a piece, contributing to the victory, while sophomore Sam Vinson had 7 assists.
Varsity head coach Kevin Listerman felt that the Birds had a good chance going into the game, "Our kids have really practiced well.  Last year on the JV level we lead by five points, which made me aware that we could win. I knew if we played well and took care of the basketball we'd have a chance to win later on in the game."
Listerman added, "I had a lot of different emotions when we won. First, our kids and fans have fought and lived through this and beating the #3 team in the state made me very happy for them. Also, our history with Cov Cath makes it all that more exciting."
The Birds earned another hard fought win, remaining undefeated. Come watch the Birds next game as they  take on St. Henry on December 7th.