Girls' varsity volleyball team defeats Campbell County in senior night game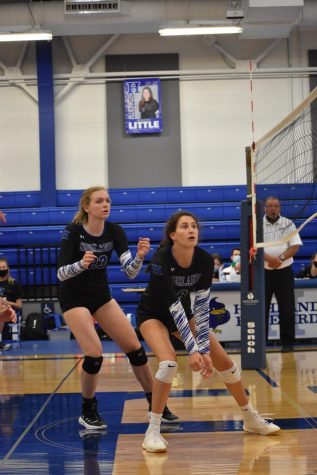 Yesterday night, the girls' varsity volleyball team beat the Campbell County Camels three matches to zero during the senior night game. 
To kick off the game, the two HHS volleyball seniors, Maria Little and Laura Winkler, were recognized in front of the fans and given a senior gift. Their teammates were also able to read them letters containing praise and memories from throughout their time with HHS volleyball.
The first match of the game began with Campbell County running up an early lead. However, they proved to be no match for the Bluebirds who came back to win the first match 25 to 16.
Senior Maria Little said, "We played aggressive and smart during the first match. Everyone had good passes, hits, and blocks which are vital reasons to why we could pull out a win."
By the second match it was evident that the Bluebirds wouldn't be easily defeated as they came out strong to win 25-16 again. Morale was high in the stands as the parent-filled ozone cheered on the Birds, hoping they'd be able to win their third match in a row and win the game. For varsity volleyball, the teams have a chance to play up to five matches, with the first team winning three of the five potential matches emerging victorious. 
Senior Laura Winkler said, "After we won the first two games it really built up our confidence. When we went into the first game we had a lot of momentum which increased our energy." 
During the third match, the Camels fought hard, making a few early kills, but the Birds stayed consistent and were able to win their third match in a row a whopping 25-10, ending the game at only three matches. 
Overall, the team feels like this season is going to be promising. Little feels, "…the team will be good this year even with the loss of six seniors. Many of us have played together in years prior and should continue to work well together." 
Keep cheering on the volleyball team as they compete in the Cake Classic tonight and tomorrow. Go Birds!
Leave a Comment