Bluebirds win big at Holmes game
On Tuesday night, Highlands Varsity, junior varsity (JV), and freshman boys basketball teams played against Holmes High School. The Varsity and JV teams defeated the Holmes Bulldogs while the freshmen team lost in a close game.  
Varsity won with a score of 97 to 79. With Junior Sam Vinson putting up 30 points in the game, he was not surprised at the win. 
Vinson said, "We wanted to get back up from our previous loss. We had a bad taste in our mouth, and we wanted to redeem ourselves." 
The hardest part of the game, Senior Jack Delagrange said, was when "one of our best players [Jacob Brass] getting hurt, ending his season."
JV got the momentum going that night by winning with a score of 63-48. 
Sophomore Oliver Harris said, "We weren't strong on defense but, were able to win the game because of offense."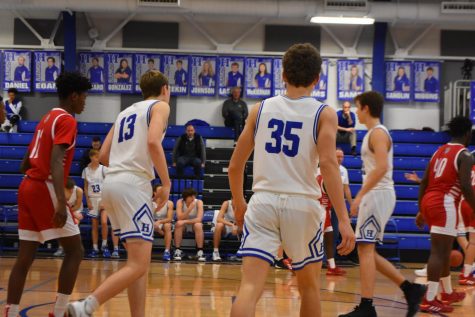 Austin Duncan said the JV team played well: "Offense shot poorly in the first half and defense didn't get many stops. In the second half, we upped our defensive intensity and shot the ball well." 
Freshman lost a close game with a score of 45-37.
The boys are back in action on Saturday at home versus. Campbell County.
Leave a Comment