On June 23rd, 1972, the United States Congress passed a civil rights law, most frequently called "Title IX," as a part of the Education Amendments of 1972.
It states directly in Title IX, "No person in the United States shall, on the basis of sex, be excluded from participation in, be denied the benefits of, or be subjected to discrimination under any education program or activity receiving Federal financial assistance[.]"
Title IX prohibits sex-based discrimination in any school or other education system that gets funding from the federal government. When it comes to whether or not a school is abiding by the law comes down to the 3 prongs or 3 tests of Title IX.
"A school has to pass 1 out of the 3 tests to ensure they aren't in violation of Title IX," said Principal John Darnell.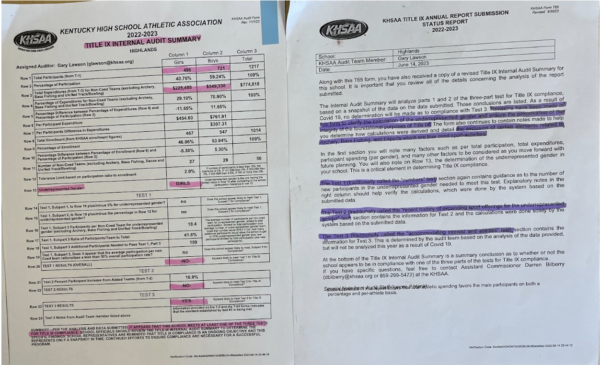 The first test is proportionality: which is to make sure that the school has an equal number of students from each sex that is proportional to the number of students at the school. Officials would look at the relationship between the amount of female and male students playing sports to how many students of each sex there are in total.
Proportionality is also about funding. "The first test is partially about spending; how much do you spend on athletes male and female?"  Darnell said.
The second prong is expansion, meaning the amount of sports offered for males has to be equivalent to the amount of sports offered for females, as long as it is in line with the interest of female students. 
Darnell continued by saying, "And the second talks about opportunity; are there adequate opportunities based on gender?" 
The last prong accommodates interests, which goes hand in hand with the second. This test helps determine whether a school is violating Title IX based on student interest.
"During meetings, we talk about gender inequality at Highlands. For example, the boys soccer team has more benefits than the girls. Although we haven't had an issue with this subject," said Junior Ellie Mohr, and Title IX committee member. 
Many students don't know of Title IX's existence or they don't know what the law entails, but here at HHS students are part of the Title IX committee. Making sure that each and every student has equal opportunities and access to those opportunities is very important at HHS. 
Athletic Director Wes Caldwell said, "Here at Highlands we have a Title IX committee with two student representatives, one female and one male, and we also have representatives from the school on the board."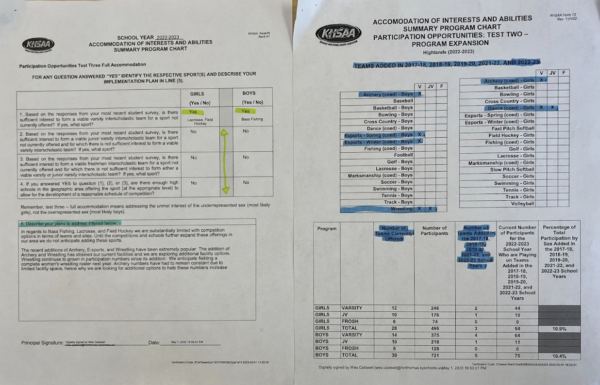 Some students reached out to staff to join the committee and others were elected by past student representatives. 
"I really thought it was a good opportunity to understand what some students are interested in and what other people go through and try to make their experience better," said Title IX committee member and junior Brennan Bucher. 
This past school year at Highlands High School, only one-third prongs passed. However, there are lots of other factors that must be considered. The committee meets often to discuss or create a plan of action for any disparities. 
"Seeing what could be better from a student perspective with the KHSAA and student experience in athletics helped me decide that the committee was something I wanted to be a part of," said Bucher.