Records and history: Highlights of Week Nine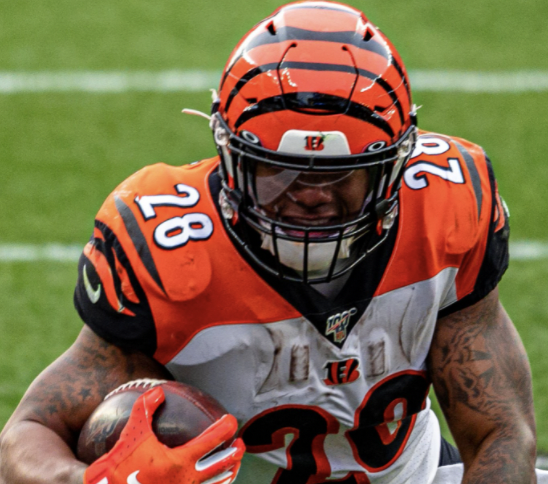 Week nine had two players who broke records and performed the best overall this week.  Chicago Bears rising star, quarterback Justin Fields, had one of his best games, and could potentially be the best game of his career. 
But in weeks 1-6, he looked terrible and they were using him as a pocket passer (they did not have the quarterback running around).
Week 7-9 he transformed completely. He began running the ball, confusing the defense, leading to more rushing yards, open passes, and touchdowns. 
Week nine was where Fields displayed his potential to be a top quarterback, and he played fantastically during the game.
The game was back and forth with the scoring but Fields looked good. He was running the ball efficiently and making smart passes.
The biggest highlight of the game was when he rushed for a 61-yard touchdown. Even though the bears ended up taking the loss, Fields was a top quarterback this week with 123 passing yards, three touchdown passes, and 176 rushing yards, complimented with a rushing touchdown. 
With Fields being attributed to 176 rushing yards, he now holds the record for most rushing yards by a quarterback in a regular season game passing one of the best, Michale Vick. 
Probably the best-performing running back this week is Cincinnati Bengals running back Joe Mixon. 
The Bengals have been a very pass-heavy offense this season because of Ja'Marr Chase, Tee Higgins, and Tyler Boyd being so efficient. As a result, Mixon has not had much of a chance to score touchdowns and gain yards, so he has been underperforming. 
With Chase being injured the Bengals are running the ball a lot more, meaning that  Mixon has more chances for yards and touchdowns and that's exactly what he did versus the Carolina Panthers. 
Mixon had a career game with 153 rushing on 22 carries with four rushing touchdowns and one receiving touchdown, making that the most touchdowns Mixon has achieved in a game, and was one touchdown away from tying the record for most touchdowns in a single game.
Also, in the game, they had the biggest lead going into halftime in Bengals franchise history, with a score of 35-0. They went on to win the game 42-21. 
During week nine the Greenbay Packers and Detroit Lions matched up and this was one of Aaron Rodger's worst games, throwing three interceptions against one of the worst defenses in the league.
 The Packers ended up losing 15-9, their record is now 3-6 but still second in the NFC North. 
Week nine had many exciting moments occur and with it being halfway through the season, several teams need to make adjustments immediately if they have a losing record.
Leave a Comment