Set up for victory: Highlands varsity volleyball defeats Newport on senior night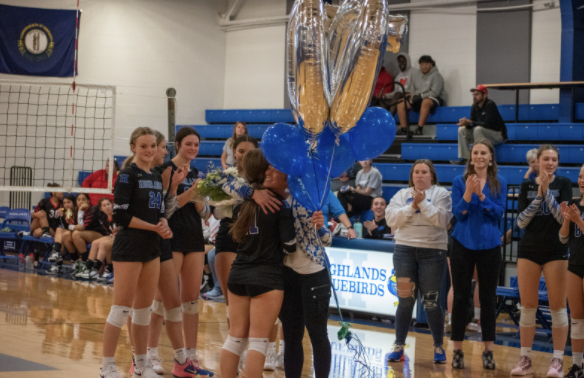 During fall break, on October 5,  the girls' varsity volleyball team beat the Campbell County Camels three matches to zero during the senior night game. 
Before warmups, the four seniors, Carly Cramer, Emma Daly, Bailey Houston, and Kenzi Vennefron were recognized for their accomplishments within the program and given a senior gift by their coach Michelle Woods. 
"I'm really gonna miss the seniors next year, but I know they're onto great things," said Freshman  Hayden Gessner. 
To start the game, Highlands had an early lead with a score of 6-1 before Newport took a timeout. After the timeout, Newport made a comeback, but it was no match for the birds. Highlands won the first set with a score of 25-14. 
By the second set, it was evident that the Bluebirds wouldn't be easily defeated as they came out strong to win 25-17 again. Morale was high in the stands as the parent-filled ozone cheered on the Birds, hoping they'd win their third match in a row and win the game.
During the second set, senior Kenzi Vennefron acquired a major accomplishment in her volleyball career. Vennefron received the honor of having 700 assists in her volleyball career. This is a huge accomplishment for volleyball players, that is not easily acquired. 
"I was definitely really shocked because this is something my coaches planned and I didn't know about it so when it happened it was very surprising but it felt very good to know that I made that contribution," said Vennefron. 
In the third set, the birds came out victorious with a score of 25-8 over the Newport Wildcats. 
After the game, the volleyball program gathered into a circle on the ground surrounding the four seniors where they would listen to speeches for the seniors written by a few of the underclassmen. 
"Winning was really fun because you never want to lose on senior night but it was just a good game for all the seniors to get to play in," said Vennefron.
The volleyball team will compete in districts next week on the 18th at Newport High School.
Leave a Comment