Marching Band marches in first competition of season
     On Saturday, October 10, the Highlands High School Marching Band marched in their first competition of the 2020 season, the Mason Band Invitational. 
     The Bandbirds started their day early, showing up to school at 9:00 A.M. for a bit of rehearsal followed by a prepared lunch from the parents and staff. After the equipment, props, and instruments were loaded onto trucks and the students had changed into uniforms, the band set out for Mason High School. They arrived at 2:15 P.M. to unload the equipment and warm-up, and took the field to perform at 4:15 P.M.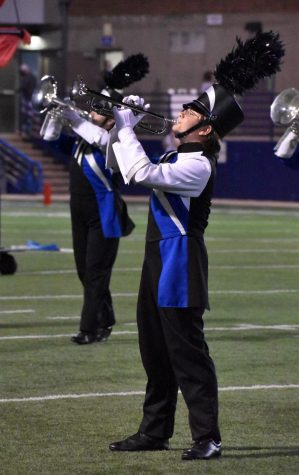 At this point in any other season, the Bandbirds would have usually had a few competitions under their belt. However, because of the COVID-19 pandemic, many competitions this year were canceled or moved to a virtual format. 
     Senior Gannon Ehrman, disappointed about how his senior marching band season is ending, was excited to get to compete in-person at least a couple of times. He said, "I think our first competition went pretty well. We focused on the music and I'm excited to get better for the next competition." 
     This was one of the Bandbirds' only two in-person competitions this year. The next will be October 17 at Beechwood High School. They will also have three virtual competitions: The Daviess County Virtual Competition on October 24, the Owensboro Catholic Virtual Competition on October 31, and the Commonwealth Pageantry Circuit Virtual Championships on November 7.
Leave a Comment