Schroeder defeats major setback with a race to victory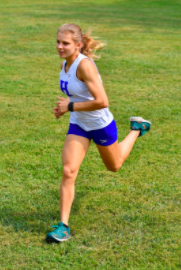 The weather is cool as the sun is hidden behind dreary clouds. The crowd cheers louder and louder as the exhausted runners race to the finish line – pushing harder than ever before. Parents line up at the finishing chute as the runners come into view. The bright green clock ticks down the most important seconds of the race. 
     "You're going to like your time," yells an eager parent to senior cross country runner Maggie Schroeder.
     Schroeder looks up. 17:57.
     17:57!? Schroeder knows she has secured the record before she even crosses the line. She closes her eyes, all her weariness replaced with eagerness. Adrenaline takes over her body. Her spikes pound the grass as she increases her speed. She surges across the finish line, her chest heaving as she gasps for air, but she's done it. She's broken the school record. 
     Schroeder set the school cross country record at the Bourbon County Colonel Charge last Saturday, running a time of 18:13, replacing the old record of 18:36 set by Highlands alumni Molly Mearns in 2012. Her time was also the fastest time run by any class 2A girl during the 2020 season so far, making Schroeder the "girl to chase." 
     Schroeder started running during her seventh-grade year when her friend, senior Greta Noble, asked her to join cross country when none of her other friends would join. Schroeder was reluctant at first, afraid of the long-distance running that was so different from her sport at the time, soccer. She showed up for the first day of practice anyway. 
     "I had no original intentions to run cross country," Schroeder recalled. "I was planning on joining track that spring and trying out sprint races, but I never thought I'd be a distance runner, let alone one who could actually compete." 
     At her first-ever practice, Schroeder remembered running with a group of friends and, as soon as they returned, heading out for more. It was at that moment when Highlands head cross country coach, Brian Alessandro, noticed her natural talent for the sport. 
     "She was able to effortlessly keep up with the high school girls on the varsity team," Alessandro said. "Her workouts were progressing, so I knew her times would be comparable to our best runners at the time."
     After her first practice, Alessandro took advantage of this newfound talent and asked her to run with varsity, despite her only being in seventh grade.
     "I ended up crying on my first run with varsity because my legs and lungs were in so much pain," Schroder remembered. "It was the first four-mile run of my life, so it left a lasting impression."
     Schroeder had a successful first season as she placed seventh in the 2015 state meet and was the second-fastest runner on the varsity team that season. She continued to improve each season with new personal records (PR), including her PR of 18:53 during her sophomore year. However, with each practice, race, and record, Schroeder experienced a conflicting battle between her and the sport.
     "I guess I have a love/hate relationship with running," Schroeder said. "I like training with my teammates and competing at meets, but I'm not always a huge fan of workouts. They can get repetitive and exhausting from time to time, but it's worth it in the end."
     Working herself to the bone, Schroeder became obsessed with the sport. She ran every day, increasing her miles and improving her time. Her competition feared her, and her teammates envied her. At school, classmates and teachers congratulated Schroeder's accomplishments after each meet. She was the athlete everyone raved about, until she received some unexpected news in the fall of 2019.
     At the beginning of her junior year, Schroeder began noticing something was off when she was suddenly unable to push herself and started to run some of the slowest races of her life. Soon after, she was diagnosed with mononucleosis.
     "Once I found out I had mono, I knew I wouldn't be able to compete successfully for the rest of the season and stopped running, letting myself get out of shape," said Schroeder.
     Schroeder was forced out of her junior season, reversing all of the hard work she had put into running for the past four years. Friends and family began to notice the void not being able to compete had left in her life.
     Schroeder's father, Trevor Schroeder, recognized this, "She definitely seemed more listless while not being able to run," he said. "I could tell she wanted to be back competing, but knew she wasn't physically able, and it bothered her. Her mother and I offered support as best we could during that time and encouraged her to come back to running when she was ready."
     After several miserable months of being unable to run, Schroeder was finally cleared of mono in January 2020 and rushed back into her familiar routine.
     "I began training every day," Schroeder said. "It took me a while to build up a cardiovascular endurance base again, but I just kept pushing little by little."
     By the time cross country season began in July, Schroeder was in excellent shape and ready to start focusing on speedwork. Not even a global pandemic could stop her grind. She was determined to make a strong comeback and a lasting impact.
     "She has always had a great work ethic," claimed sophomore cross country runner Ruby Smith. "But this year I think that she is more determined than ever to win, and [is] not taking anything for granted!"
     Schroeder's major setback has only proved her determination for the rest of the season. 
     "Having mono last season made me desire to come back this year better than ever," she said. "I didn't want to say I'd peaked my sophomore year."
     In placing third, setting a school record, and improving her PR at the Bourbon County Colonel Charge last Saturday, Schroeder proves that she did not peak sophomore year. She is only getting started.
     "Last season's events took a major toll on me both mentally and physically," Schroeder claimed. "I had it in my head that my running career was over for good, but when I began training this year and started dropping time again, I realized that I wasn't done running and competing for good."
     Schroeder plans to continue to push herself through her senior season in order to be on track to run in college. Her coaches and teammates have full faith in her, and can't wait to see where this season takes her.
     "She is the best distance runner in school history," Coach Alessandro praised. "Incredible talent."
Leave a Comment