Bluebirds succeed at Kentucky All-State Golf Championship, with prep for regional tournament underway
     Select members of the Highlands golf program spent this past weekend competing at the All-State Golf Championship, held at the University Club of Kentucky in Lexington. 
     The boys' team qualified for the tournament following a season of triumph. The five players chosen to compete were seniors Luke Muller and Justin Gabbard, junior Jack Schneider, sophomore Joel Craft, and eighth-grader Hank Shick. Gabbard had an especially good game on Saturday, shooting five Birdies (meaning one under par). 
     Muller shot four Birdies on that Saturday as well, setting the team up for a successful weekend. They ultimately achieved a gross score of 617 across the two-day tournament, coming in sixth out of 15 teams overall.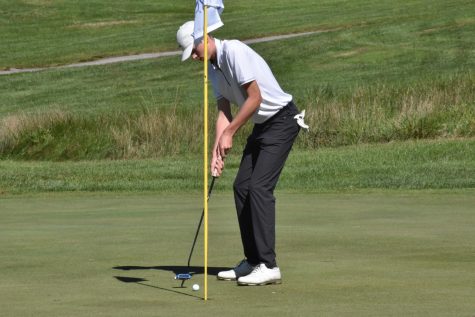 Gabbard commented enthusiastically on the event, saying, "This weekend was great to see that we are one of the top teams in the state. All we have to do for the state tournament is stay focused and grind out every shot."
     Although the Highlands girls' golf team didn't qualify for the all-state tournament, senior Ellie Rowland and junior KJ Toole qualified individually for competition. Rowland shot 90 on Saturday and 95 on Sunday, totaling to a gross score of 185. With one Birdie each day, she managed to hold her own amidst competitors and ended up placing 66th out of the 95 female competitors. 
     Toole also worked hard this weekend, shooting four Birdies across the two-day period and finishing with a gross score of 176. She ended the tournament in 54th place. 
     The girls are also preparing for the upcoming end-of-season tournaments. Rowland mentioned, "Overall, I feel like we didn't play as well as we hoped at all state, but it was a great experience playing with the best players the state had to offer." She continued, "It really helped prepare me for the regional tournament and showed me what I need to work on to ensure a success."
     The regional tournament is scheduled for the end of this month, when the boys' and girls' golf teams will compete to hopefully advance to the state tournament this year.
Leave a Comment