Bluebirds tie Holy Cross Indians 2-2 during Senior Night season opener
Yesterday night, the Highlands Boys' Varsity soccer team had their season opener versus Holy Cross at Tower Park Soccer Complex. The boys put on a competitive show and ended up tying the game 2-2 after an early lead in the first half. 
The game also doubled as Senior Night, in which all of the seniors were able to receive their senior gift as well as walk onto the field for photos, escorted by their parents. While walking out onto the field, their favorite team memories and soccer quotes were announced over the loudspeaker, giving an insight into some of the brotherhood the coaches work hard to create.
The Birds got an early lead with a goal by Senior Austin Frazier just eight minutes into the game.
Frazier said, "It felt great [to score] because I've been putting a lot of work in during the offseason, so to start off with the first goal was something special for sure." 
Holy Cross scored a few minutes later, making the game 1-1 at halftime.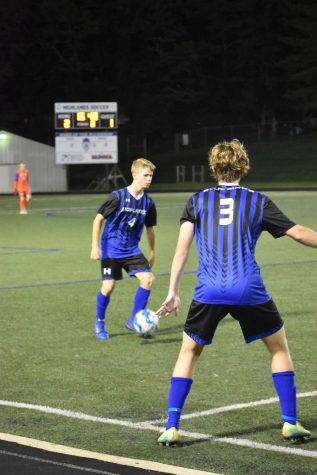 During the second half, the Bluebirds dominated possession from the beginning and had multiple shots on goal which unfortunately just couldn't go in. With 21 minutes left on the clock Senior Max Farris scored a beautiful goal, putting the Birds ahead 2-1. 
Farris said, "Personally I think I had a decent game last night. It had been awhile since I have been able to play, and I definitely felt some rustiness. As for the team I think we did great and for our first game together. We're using a different play style than previous years, and I'm excited to see it unfold."
With just three minutes left on the clock, the referee misjudged a clean block by Junior Cole Lorenzen and called a foul against Highlands in the box, leading to a penalty kick for Holy Cross. The Holy Cross athlete made the shot and brought the game to its final score, 2-2. 
Overall, the Bluebirds played well, dominated possession, and had many shots on goal. 
Frazier feels the Birds are going to have a successful season, "It seemed like we played very well, making great combinations in the middle, but then we seemed to lose composure towards the end. With more training and games coming our way, I think we have a great shot at going to state again."
The next boys' soccer game will be held on Thursday at Tower Park Soccer Complex, where the Birds will face off against Holmes.
Leave a Comment