Highlands Volleyball Digs for a Cure
On Thursday October 10th, the Highlands High School volleyball team went up against the Cooper High school jaguars. The Freshmen  team lost after three games in a battle, the Junior Varsity (JV) team pulled a victory, and varsity lost.
The night started off with the Highlands freshman team winning their first game. Cooper took the next game, and in the third game there was a battle until the last point when Cooper won 21-19. The JV team won the first two games so there was no need for a third.
Sophomore Honor Valentine on JV said, "I think we won because everyone worked so hard and they wanted it so bad."
Before the varsity match began, there was an event recognizing cancer awareness and research. Highlands teacher Beth Brubaker and others were there to give speeches before the rest of the competition continued.
Because JV won and it wasn't close, Varsity came in with high hopes. The first game started off very close but then Cooper took the lead and won. In the second game it was very close until Highlands got a three-point lead, but Cooper caught up and passed with a four-point lead and won.
Sophomore Nicole Ossege on Varsity said, "we didn't play with confidence" which caused them to lose their third game. "There was no momentum."
The birds lost but have hope that their next game they will do better.
The volleyball birds will face off against Conner High School on October 17th at home.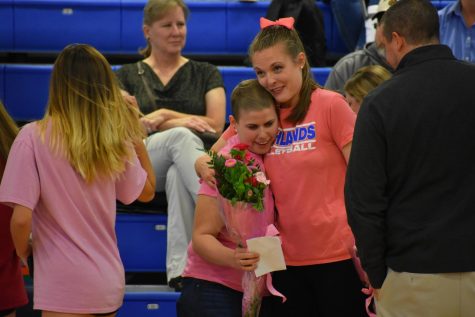 Leave a Comment