School Cafeterias: How much waste do school cafeterias really produce?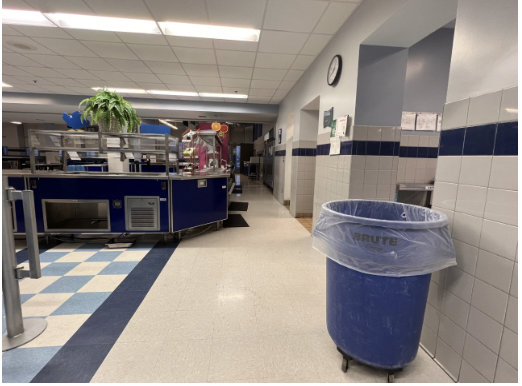 Students often throw away what is remaining on their trays after eating lunch without thinking about it. This means every day students are tossing piles of food and causing a lot of food waste to be produced from their lunch throughout the year.
According to the World Wildlife Fund (WWF), in an article written by the author, Susan McCarthy states, "participating schools on average produced approximately 39.2 pounds of food waste and 19.4 cartons of milk waste per student per year."
However, packing lunch may also not cut down on the amount of waste that is produced by an individual due to the amount of plastic packaging they use in most of the foods advertised to bring to school.
In an article by EarthShare, a business that helps to fund environmental non-profits, the author states, "How much waste does the average student carrying a packed lunch produce each school year? Approximately 67 pounds of waste. That adds up to more than 18,000 pounds of waste produced by the average-sized elementary school in one year."
At Highlands, the custodial staff is keeping an eye on the solid waste and recyclables throughout the building. Collen Epperson, a science teacher at Highlands, says "Green Club is hoping to get rid of plastic utensils and move back to reusable."
One of the Green Club officers, Senior CiCi Murphy, mentioned something similar to Epperson, "there's a compost bin in the rain garden we are trying to get more use out of this year." She also has some hopes for how students can reduce waste in the cafeteria. Murphy says, "Right now we are in the process of trying to switch from using plastic silverware to actual silverware."
With Green Club trying to implement silverware back into the cafeteria there also comes some barriers to getting it approved. Senior Maura Eckerle says, "We are writing up a cost analysis that will help see what we need to fundraise or how much money we need to raise to replace this. Silverware was in our school a few years back when we had different administration and now the middle school has silverware and we don't." The green club is hopeful to implement any waste reduction acts or implements in Highlands.
In order for this plan to work, students need to be more aware of what is on their tray and where it is going. Murphy says, "Well in terms of the silverware that we are working on switching to, just be mindful of not throwing away your silverware because this is why they got plastic."
The cafeteria manager at Highlands, Nancy Gesenhues, similarly says, "The reason we changed from silverware to plastic utensils is that the students would dump the silverware in the garbage can when they brought their trays to the Dish Room. We were constantly ordering new silverware."
Gesenhues also says, "We have started to eliminate some of the plastic/paper containers we use.  We have to still use some plastic/paper because of the food we serve.  We do not have enough volunteers to serve the food and put it on your trays.  Therefore, we have to put them in containers so the students can just grab the item themselves."
Having a waste reduction implementation in high school can also have long-lasting effects on students even after they have left high school. The green club officers want to help teach students how to use their resources for good so that when students leave the nest, they have more sustainable habits.
Senior Maura Eckerle expresses, "I think when you have sustainability initiatives in high schools it can teach younger people about sustainability while they are in high school before they go out into the real world."
Leave a Comment