Young Frankenstein Review
     Highlands High School is performing Young Frankenstein by Mel Brooks, opening April 15 and closing April 18. At the beginning of the show, Director Jason Burgess introduces the production. The viewer is able to imagine yourself in the shoes of the town, along with Frankenstein himself.
     This musical follows the infamous Dr. Victor Frankenstein (senior Hank Slaby) as he has learned that he has inherited his grandfather's (sophomore Connor Defevers) estate in Transylvania. Dr. Victor Frankenstein begins to recreate his grandfather's experiments with the help of his loyal servant Igor (sophomore Grace Shuley), his assistant Inga (senior Zoe Zoller), and housekeeper Frau Blücher (senior Madi Burnett), whom he meets along his journey to Transylvania. After the creation of his very own monster (sophomore Logan Holbrook), problems begin to arise as the doctor's fiancée Elizabeth (junior Ashley Kelly), shows up at the grandfather's estate in Transylvania. 
     The actors were amazing in their performance of this musical, The casting of the characters was perfect, and the songs were beautifully done. My favorite characters were Igor, the comic relief, Inga, the love interest of the doctor, and Elizabeth, the sassy fiancée. These characters were relatable to the audience, even though the characters were set in the time period of 1974, the audience could imagine themselves in their shoes.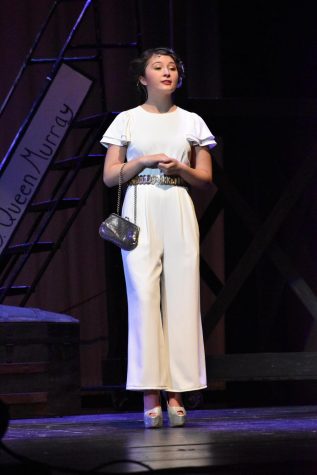 The costumes were beautifully done, and every single costume matched the character completely. My favorite costumes were the ones worn by the fancy and feisty Elizabeth, which were beautiful and perfect in every scene. The makeup was terrific as well, especially on the monster, as his face truly looked like the one of a monster. 
     I would recommend seeing this touching and beautifully created musical. You can see it at 7:30 p.m. on April 15, 16, and 17 and at 2:00 p.m. on April 18. Be sure to see Young Frankenstein before it's too late! 
Leave a Comment