College Board releases remainder of information on how COVID-19 will affect AP Exams
On March 20, College Board put out an announcement that Advanced Placement (AP) Exams will change as a result of COVID-19 (LINK to an article on that information). On that date, they supplied information regarding the time limit of all tests and the specifics of a few courses (AP Art, AP Computer Science Principles, AP Research, and AP Seminar). They promised more information on April 3.
Most AP Exams will be a 45-minute take-home test, save for classes such as those listed above, whose content differs from that of a typical AP course with specific units. The information released April 3 regards the specifics of the remainder of the AP courses.
Firstly, College Board released a schedule with primary exam dates. However, for students hoping for more time to prepare, makeup exam dates are supplied.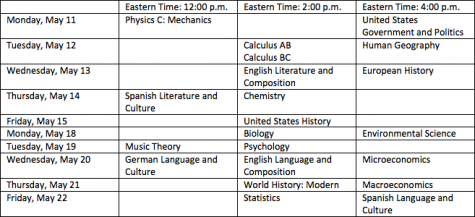 College Board also released course-specific exam information, which includes the questions included, percent of exam score for each question, question name, question description, units eligible and not included for the 2020 exam, and makeup test dates and times.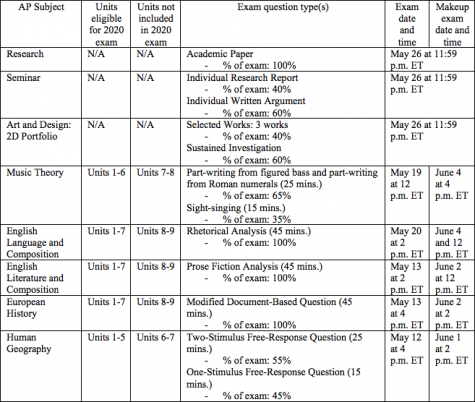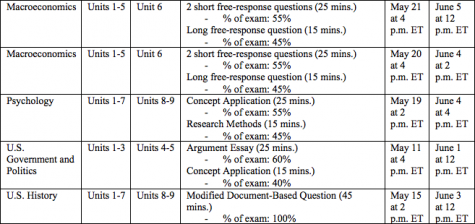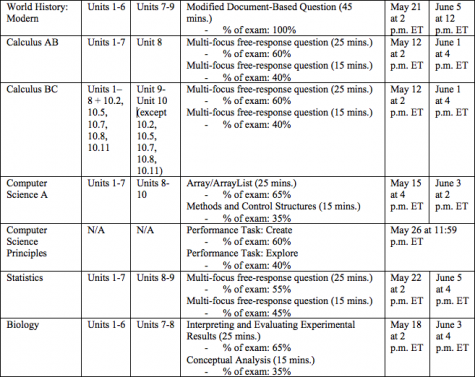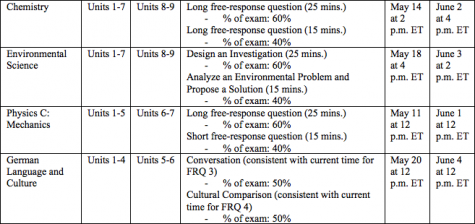 All up to date information on AP Exams can be found at this link (LINK).
Leave a Comment