AP Exams change in the midst of COVID-19 turmoil
On Friday, March 20, College Board put out an announcement regarding what was to happen to AP Exams as COVID-19 continues to rock the nation.
College Board, like many programs throughout the world, is putting the health and safety of students and educators first. They also realize that time constraints have now been placed on many learning and teaching AP class content. Therefore, they have decided to cancel all face-to-face exams and implement 45 minute online exams, to be taken at home, instead.
The AP Program will provide dates in which the test can be taken. Highlands will provide more information on the dates as they become available. At this moment, only a few AP subject's exam question type(s) and exam dates have been announced. All additional information on what AP subjects' exam question(s) will and will not cover is out, though. 
College Board's website states that the full exam schedule, specific free-response question types that will be on each AP Exam, and additional testing details will be available by April 3.
For now, see the chart below that tells what released AP subjects (that Highlands High School teaches) content, exams, and test dates look like. We will continue to update this page as more information is released. Additionally, you can check out Collge Board's full update for schools impacted by COVID-19 (LINK).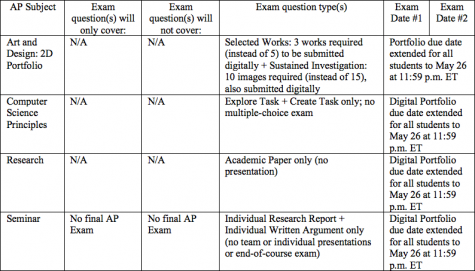 Leave a Comment