From the archive: February 8, 1945
The Last Stretch For Seniors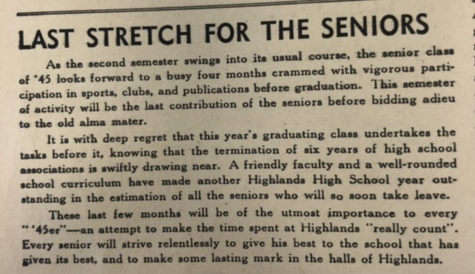 As the second-semester swings into its usual course, the senior class of '45 looks forward to a busy four months crammed with vigorous participation in sports, clubs, and publications before graduation. This semester of activity will be the last contribution of the seniors before bidding adieu to the old alma maters
It is with deep regret that this year's graduating class undertakes the tasks before it, knowing that the termination of six years of high school associations is swiftly drawing near. A friendly faculty and a well-rounded school curriculum have made another Highlands High School year outstanding in the estimation of all the seniors who will so soon take leave.
These last few months will be of the utmost importance to every " '45er" an attempt to make the time spent at Highlands "really count". Every senior will strive relentlessly to give his best to the school that has given its best, and to make some lasting marks in the halls of Highlands.
Former Graduate Reported Missing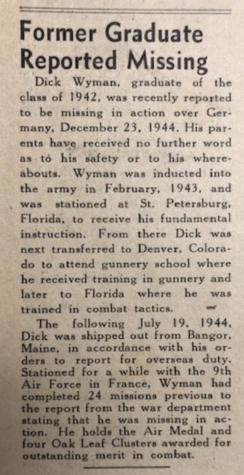 Dick Wyman, graduate of the class of 1942, was recently reported to be missing in action over Germany, December 23, 1944. His parents have received no further word as to his safety or to his whereabouts. Wyman was inducted into the army in February, 1943, and was stationed at St. Petersburg, Florida, to receive his fundamental instruction. From there Dick did to attend gunnery school where he received training in gunnery and later to Florida where he was trained in combat tactics
The following July 19, 1944, Dick was shipped out from Bangor, Maine, in accordance with his orders to report overseas duty. Stationed for a while with the 9th Air Force in France, Wyman had completed 24 missions previous to the report from the war department stating that he was missing in action. He holds the Air Medal and four Oak Leaf Clusters awarded for outstanding merit in combat
Bridges is Member of Memorial Committee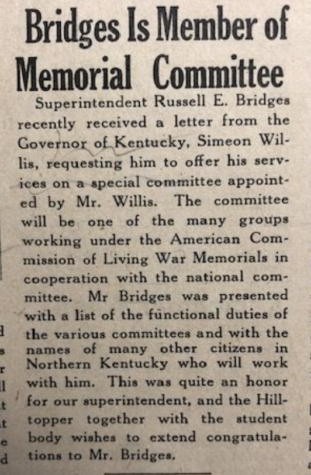 Superintendent Russell E Bridges recently received a letter from the Governor of Kentucky, Simeon Willis, requesting him to offer his services on a special committee appointed by Mr. Willis. The committee will be one of the many groups working under the American Commission of Living War Memorials in cooperation with the national committee. Mr. Bridges was presented with a list of functional duties of the various committees and with the names of many other citizens in Northern Kentucky who will work with him. This was quite an honor for our superintendent, and the Hilltopper together with the student body wishes to extend congratulations to Mr. Bridges
The Listening Reporter…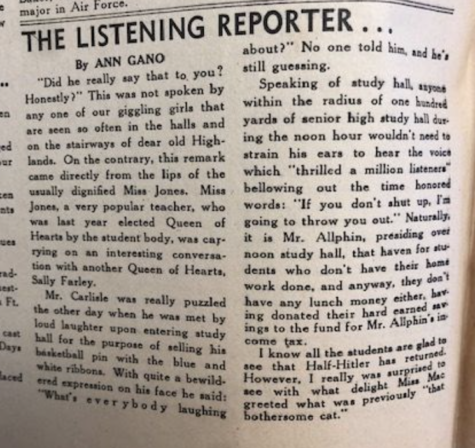 "Did he really say that to you? Honestly?" This was not spoken by any one of our giggling girls that are seen so often in the halls and on the stairways of our dear old Highlands. On the contrary, this remark came directly from the lips of the usually dignified Miss Jones. Miss Jones, a very popular teacher, who was last year elected Queen of Hearts by the student body, was carrying on an interesting conversation with another Queen of Hearts, Sally Farley.
Mr. Carlisle was really puzzled the other day when he was met by loud laughter upon entering study hall with the purpose of selling his basketball pen with the blue and white ribbons. With quite a bewildered expression on his face he said: "What's everybody laughing about?" No one him, and he is still guessing. Speaking of study hall anyone within the radius of one hundred yards radius of senior high study hall during the noon hour wouldn't need to strain his ears to hear the voice which "thrilled a million listeners" bellowing out time honored words: "If you don't shut up, I'm gonna throw you out." Naturally, it is Mr. Allphin, preceding over him over a new study hall, that haven for students who don't have their homework done, and anyway, they don't have any lunch money either, having donated their hard earned savings to the fund for Mr. Allpin's income tax.
I know all the students are glad to see that Half-Hitler has returned. However, I really was surprised to see with what delight Miss Mac greeted what was previously "that bothersome cat"
Leave a Comment