Harry Styles: The man of many talents
     First male solo artist to reach over 100 million streams on each of his songs. First male solo artist on the cover of Vogue. Has earned the Golden Ticket Award.  
     Harry Styles is one of a kind. 
     People have a lot of opinions on Styles, as some don't like him and some love him. He has created two albums. The first one is his debut album, known as HS1, which was released in 2017, along with his most recent album, Fine Line, which was released in 2019.
      Others may wonder how Styles got here. It all started in 2010 when he went on X-Factor and sang the song 'Isn't She Lovely.' He and four other guys named Liam Payne, Louis Tomlinson, Niall Horan, and Zayn Malik were all on the show too but eventually, they got cut. 
     English Television Personality, Simon Cowell was the person that formed the popular band, known as One Direction. When Cowell saw them get cut he decided that he thought that they should form a band. They formed the band and got down to the final 3 in X-Factor and they got 3rd. 
     They were still a band after that but then went on hiatus in 2015, due to them thinking it was time and not wanting to exhaust their fan base. 
     After they went on hiatus, they all created their own music, soon Harry proving himself as the most successful out of all the One Direction members.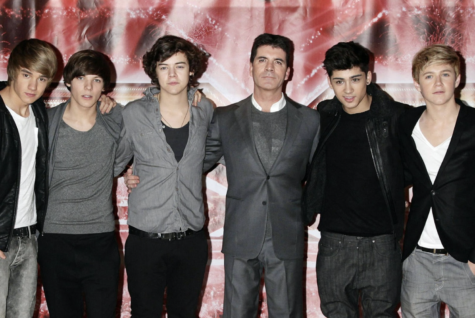 According to Highlands High School English Teacher Megan McCormick, when people see Harry Styles many believe that his fan base is mainly female based. 
     "I think it's because he's attractive."
     One of the most successful things he has done in his career is to be the first solo male on the cover of Vogue. 
     Sophomore Michelle Barth gave us some insight into what she thinks about it.
     "I think it's really cool that he went against society norms and chose to wear a dress especially with being the first solo male on the cover of Vogue."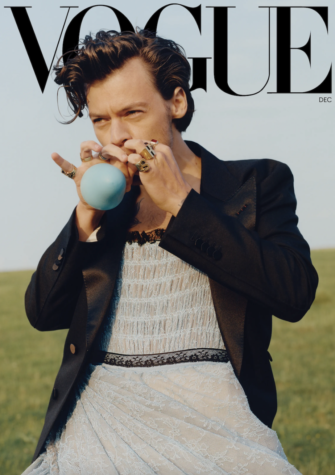 Styles shows off his confidence through having his own way of doing things and not caring what other people think about him. This leads him to be a role model to people of all different backgrounds, as he does what he wants. 
     So what is Styles currently doing? Styles is touring through his Love On Tour, in which his last show is on November 28 in Long Island, New York. Due to COVID-19, Styles had to push his tour back for a year.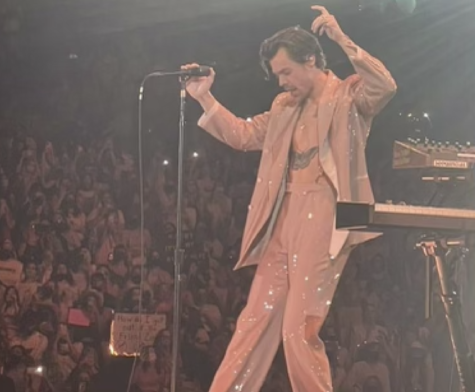 McCormick has a favorite song on both of his albums.
     "On his first album, 'HS1,' my favorite is 'Only Angel,' and on 'Fine Line,' my favorite is 'Canyon Moon.'"
     Next year, Styles has a movie coming out called 'Don't Worry Darling,' another movie called 'My Policeman,' and has a five-movie contract with Marvel Studios.
     Many are excited over Styles' achievements as he has big things going right now and more coming his way!
Leave a Comment