HHS Broadcasting live-streams first boys basketball regional tournament game, a 104-62 win against Ryle
     Last night, starting at 7:00 p.m., the Highlands boys varsity basketball team took on Ryle High School at home, crushing them 104-62 in the first round of the regional tournament. 
      Led by junior Zach Barth, who scored 20 points and had five assists, and seniors Sam Vinson and Luke Muller, with 16 points apiece, the boys yet again proved to be a powerful contender for the top spot in the region. 
     By halftime, the boys already had a clear lead, beating the Ryle Raiders 64-28. The dramatic gap in scores was mostly due to multiple great dunks by Vinson combined with 14 three-pointers scored by the team in total. 
     Coach Kevin Listerman said, "We played very well. We were focused and relaxed and we played with a sense of urgency that you'd expect a veteran team to play with at this time of year." 
     Last night's game also included an extra dimension for the fans as well. Due to limited capacity in the gymnasium per COVID-19 restrictions, the HHS Film and Broadcasting Department live-streamed the game on the football jumbotron and invited all HHS students to bring their favorite lawn chair or picnic blanket and tune in to the game, socially distanced. 
     Students seemed to really enjoy the event including senior Miles Sower who said, "I was excited to be able to see the basketball team play for the first time my senior year.  It was a really nice event to still enjoy the game while being COVID-19 friendly and showing school spirit."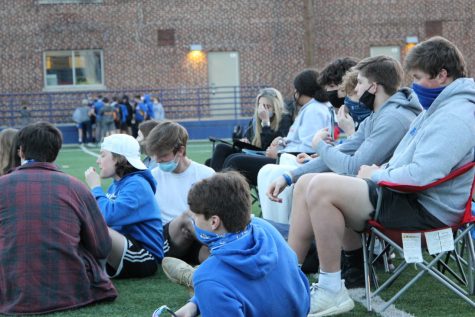 The turnout for the game was high, with students from all grade levels assembling to cheer the basketball team on. 
      Sophomore Jonah Listerman really enjoyed cheering on the team, stating, "Well, for one, it's the first time I've been able to physically be at a basketball game, and, with it being Regionals, it is important to cheer on the team."
     Admission to the field to watch the game was free, but concessions were served, giving students a chance to watch and cheer on the team in a safe fashion. Although not all games will be continued to be broadcasted this way, last night's game was undoubtedly a treat for those who attended. 
     Looking forward to the rest of the tournament, the boys plan to take on the number three team in the state, St. Henry, on Wednesday night at 6:00 p.m., with the game being live-streamed from Holmes High School. Previously, the boys lost to St. Henry during the regular season by only two points, and are ready to come back and play hard. To tune in to Wednesday's game, the live-stream can be purchased for $6, sponsored by St. Elizabeth Sports Medicine.
Leave a Comment