HHS Orchestra travels to Toronto
During fall break of the Highlands High School 2019-20 school year, members of the HHS Sinfonia and Chamber orchestras traveled out of country to Toronto, Ontario to perform and see the world.
The group of students arrived to campus on Thursday, October 3rd at 6:30 a.m. in order to play a mind-boggling game of Tetris in order to fit an assortment of cellos, basses, and countless suitcases securely underneath two Executive Charter buses. Once that was done, the students began their 10 hour journey to Toronto.
Their first night out of the country began with a performance by the Toronto Symphony Orchestra (TSO). However, instead of a performance of Vivaldi's Four Seasons or Paganini Caprice No. 24, the students were greeted with Star Wars Episode 6: Return of the Jedi with TSO playing all of the background music.
This sparked inspiration for the student's workshop the following morning with Uri Mayer, the Director of Orchestral Activities at the University of Toronto. There, the students enhanced Dvorak Symphony No. 8, Finale. They discussed tone, colors, phrasing, all the ingredients needed to move an audience with music.
They then transferred to The Royal Ontario Museum to perform a pop-up concert. With a repertoire consisting of Yesterday, I Dreamed A Dream, The Sound of Music, and Russlan and Ludmilla, the HHS orchestra awed and impressed many Toronto civilians.
After that, the students had the opportunity to touch the sky by traveling up the CN Tower, which is over 1700 feet tall. In order to get to the top, the students had to brave a 58 second glass elevator ride, causing them to travel 15 miles per hour.
After that thrilling experience, they were able to relax by watching a performance of Come From Away, a story about 7,000 people who were stranded in a small town in Newfoundland for 6 days during 9/11.
Sophomore Samuel Contreras enjoyed the musical. "It was amazing, insightful, and entertaining, and provided an alternate perspective on a major part of our nations history," Contreras explained.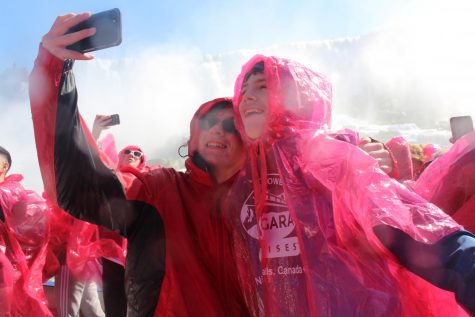 On their last day in Canada, the students said goodbye to Toronto and traveled to Niagara Falls. There, they were able to take a boat tour and bask in the mist of these waterfalls that are 167 feet tall.
Strings teacher Kathy Anderson was pleased with how the trip went. "It was a huge success and we learned so much!" Anderson explained, "We loved Canada and cannot wait to apply what we learned to our future performances."
The HHS Orchestra will be performing a Toronto Tour Concert on October 17th at 7 pm in the HHS Performing Arts Center.
Leave a Comment