Scheduling Begins Next Week: Are You Ready?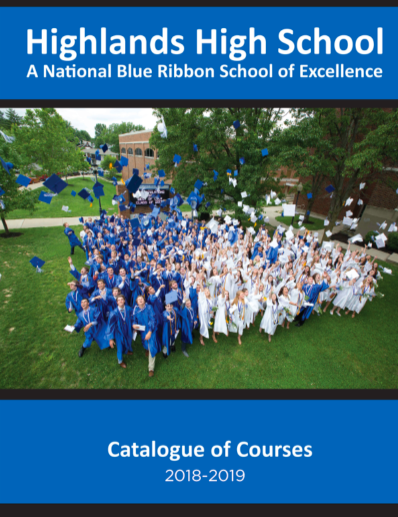 Students are just getting back from a well-deserved two-week break following a stressful midterm exam period. Yet again, students are faced with another daunting task in planning their future.
     Scheduling begins on Monday, January 14th and lasts all week. Over this time, students will go to the library for the counselors' presentation. This year, students will be told about a new program — Launch. Launch is a new space Fort Thomas Independent Schools recently acquired.
According to superintendent Karen Chesser, "Launch includes a 1) MakerStudio for student groups to use during school, after school, and during the summer, 2) a Student Business Pop-Up Shop, and 3) a Professional Studies Center where high school students can participate in Flight Path programs, taking advanced classes aligned with careers, working with business partners in the areas of App Development, Entrepreneurship, and Health Innovations, among others."
     After students pick which classes they want to take, their guardian will be required to sign-off on their class choices. Counselor Trinity Walsh believes that communication at home is very important. Students will have a three week period to discuss and make final decisions.
     During the time leading up to scheduling, many questions arise, such as "What classes should I take?," "Do I have enough credits?," "Should I take advanced classes?," and "What do I even want to do after high school?"
     Highlands offers a wide variety of classes, both core and extracurricular. Students struggle with finding their best fit and deciding to join the AP, advanced, or regular track.
     Scheduling for sophomore year poses a variety of choices and worries for freshmen. Many students take their first Advanced Placement (AP) classes in sophomore year.
     Sophomore Sydney Schenk takes 4 AP classes this year, and AP Seminar and AP World History are two of them. While she says these two classes are very challenging, she advises freshmen, "Don't listen to the horror stories. They're pretty untrue. Both of them really do prepare you for future workloads."
     The plethora of classes offered at Highlands both excites and confuses students. Senior Jacob Ryan offers advice saying, "If you are curious what a class is like, both students and teachers are great people to ask."
Tips for Scheduling:
1. Talk to trusted adults, such as teachers and guidance counselors.
This has been said many times, but it is super important! These people have been in your position before and their main goal is to help you. Don't be afraid to go to them with your questions.
2. Base it on what works best for you.
High school is supposed to prepare you for college and beyond. Making sure your schedule fits your needs, challenges you, motivates you, and helps you prepare for the future is one of the most important things.
3. "Make sure that you have at least one class in your scheduling with a light workload." – Jake Ryan
You don't want to have all heavy classes or you'll burn yourself out, so having at least one class with a light workload will make sure you don't overload yourself with work. Art classes are a good break in the day, and it can help fulfill a graduation requirement! There are many options in our art department.
4. Think about your future and which classes will help you.
If you're planning to be a chef, the Food and Nutrition class would be a class to consider taking. This thinking ahead can be very important later in life when you're flying the nest. We have a large variety of classes, so check out the course catalog.
5. "Know your limits." – Emma Hargis
Don't take a class you don't think you'll be able to handle. Your success in the class is determined on understanding your boundaries. While AP classes boost your GPA, if you don't do well, your GPA will suffer.
6. "Find a balance of classes that will challenge you, motivate you to come to school, and allow you to achieve a strong GPA." – Jake Ryan
This speaks for itself! Learning should be fun, but at the same time you should still be learning. Pick and choose to find the best fit for you.
7. Investigate your options.
There are tons of classes available and if you're unsure about one, ask the teacher or students who have taken the class. They will be able to help you best.