Unsung Heroes: keeping HHS emotions bound together, behind the scenes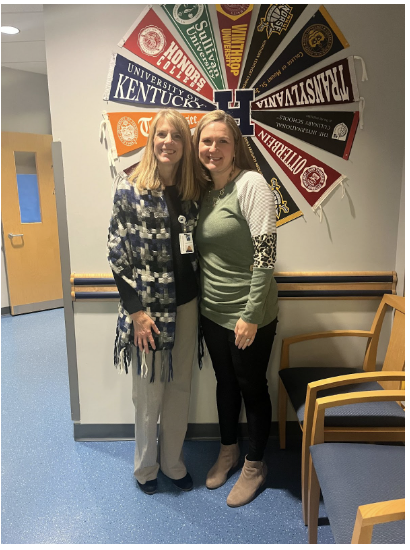 At school there are many stressors, including social, academic, and even issues at home. Counselors know this well as they engage with dozens of students daily, offering assistance directly to those in need and also conducting daily check-ins with students. However, it's often not recognized that there is another expert perspective in the mix, one who is constantly considering both the counselors and their students' welfare. 
Julie Sarakatsannis, counseling office secretary at HHS, serves in this role. She is responsible for overseeing all aspects involved in the counseling process. 
Sarakatsanis, a former HHS student, graduated class of '88, and went on to marry another  HHS student  —and soon to be air force pilot. With her husband in the air force, she took part in many adventures around the world. 
"We moved 12 times," said Sarakatsannis, "living in Arizona, Utah, Korea, England, Germany, Italy, Alabama and Virginia, before moving back to Fort Thomas in 2015."
However, she had not known that moving back to Fort Thomas would mean being requested to serve in a role at her former high school.
"I never pursued the job but was asked about it when the position was open— it was quite a surprise." 
Though she always had strong natural ties to HHS, she never did suspect after a life, so far, of extensive moving and global relocations that she'd be back in her old high school, once again. 
But as excitement for this important and challenging opportunity came, so did hesitation.  Sarakatsannis needed to consider one potential obstacle, of a personal nature, before accepting. 
Sarakatsannis is diagnosed with Crohn's disease, a long-term condition affecting the gastrointestinal tract. As Crohn's disease impacts her physically, and maintaining optimal health is very important to her, making the job choice was a bit difficult.  
Erica Thomas, one of four counselors here at HHS was convinced, no matter what Sarakatsannis chose to do, she was still the ideal fit for the position. 
"Julie is an all around caring, understanding person," said Thomas. She is the first cheerful face students see upon entering the counseling office, the "welcomer," Thomas adds, "Sarakatsannis's empathetic attitude makes her the absolutely best individual for this role."
Along with a simple hello, though, comes a number of tasks. According to Thomas, Sarakatsannis takes care of many administrative tasks and much paperwork. She also is responsible for managing senior awards and recommendations. 
By handling these more intensive tasks, she helps free up more time for the HHS counselors and their students. Given their close working relationships, and the powerful and oftentimes emotional issues they address, the HHS counselors share a close bond.  
The counseling facility share a daily friendship— an almost family-like connection that acts to overlay their skills to make a force like no other, when it comes to helping students. "I learn so much from the counselors about communicating effectively", said Sarakatsannis. "They are all inspiring people, and I truly enjoy being with them." They also make her laugh everyday, which helps with the ever-present stressors, faced by students but with their counselors at their side. 
View Comments (1)