Honoring Bertasso: Thanks for the memories
Julianna Russ
   Last week, Principal Matt Bertasso announced his departure from Highlands High School effective at the end of the 2020-2021 school year. 
     A Highlands alumnus himself, Bertasso arrived in the Fort Thomas Independent School district in 2018 following his tenure as principal and director at Compass Academy in Idaho Falls, Idaho. Upon arrival, he made a point to connect with students, parents, and faculty. His integration into the greater community was a cornerstone of his time in the district, and he quickly became known for his fun attitude and innovative approach to learning.
     Superintendent Dr. Karen Cheser remembered Bertasso fondly, reflecting on his contribution to the school community over the years. 
     "Mr. Bertasso brought many contributions to the community. One that really stands out has to be what he did to really enhance the spirit and traditions of the school. I know since he had been a student at Highlands High School, he understood how powerful and rich our traditions are. "
     Cheser also praised him for his expertise as an educator, and his prioritization of students first and foremost.
     "He has fantastic ideas. He brings so much experience. He is very focused on students and trying to do more and more to meet their needs."
     During his time as principal, Bertasso increased pride in Highlands athletics, academics, and arts. He invested time and energy into supporting student endeavors, and he never shied away from a new idea to improve. 
     Bertasso led the charge to include pep rallies throughout the school year in support of Highlands sports teams. He also helped build the Advisory program, with a specific emphasis on mental health awareness at the individual level. He invested in technological advancement at the high school, continuing the tradition of excellence that Highlands is known for. He also maintained Highlands' ranking as one of the best schools in the state.
     Kristin Wilson, the German instructor and Junior Class Sponsor at Highlands High School, highlighted Bertasso's innovative spirit. 
     "He's mixed our traditions and what we love about our school with these new ideas, he can think outside of the box and just make everything even better than it was."
     Although he was only principal for three years, one of which was overshadowed by a global pandemic, students themselves feel that Bertasso knew them as people, not just numbers. 
     Junior Class President Kylie Jane Toole remarked, "[Bertasso] brought an excitement to the student body, and he really cared. He was up here all the time. You see him all throughout the community. He knows us, personally."
     Senior Will Griffith agreed, mentioning Bertasso's commitment to supporting students at athletic events. Griffith said Bertasso was one of the only principals that he can remember who showed up to the state cross country and track meet. 
     "At those meets, it's usually just us and the coaches. But for Mr. Bertasso to take the time out of his day to drive to Lexington, twice, to support the team, meant a lot."
     Throughout Bertasso's time in the district, he was known for raising school spirit and being a cheerleader for every student. This personal tradition didn't end with the pandemic.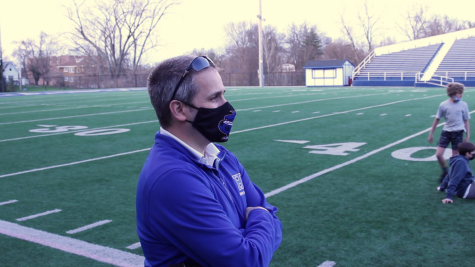 Only a year and a half into his tenure here at Highlands, Bertasso was faced with an unprecedented challenge. Within a matter of days, the high school wa
s forced to transition to a totally online platform. No one was even allowed inside the building, as per health department regulations. 
     However, this obstacle did not prove impossible to overcome. With Bertasso's leadership, the greater Highlands community was given the skills to succeed under the strangest of circumstances. Students did not just succeed; they thrived. Bertasso made a point to maintain constant communication, and he never stopped thinking outside the box. He also never allowed the Bluebird community to crumble; despite social distancing, this pandemic ultimately brought students closer together.
     Drama teacher Jason Burgess reflected on Bertasso's leadership during the pandemic.
     "I could not think of another administrator who would roll with the punches and constantly try to figure out a way to keep learning going forward, listen to ideas, take feedback. I think his lasting impression will be that he was someone that was willing to try anything to get maximum effort and maximum results."
     Del Ehemann, a chemistry teacher at Highlands, agreed, applauding Bertasso for his innovative use of resources to help the district through hard times.
     "He took charge, his understanding of technology and what you could do with technology helped. He came up with different schedules. He was able to react—and change—when something didn't work. He was able to tap into the technology of tools that we already had, to help us use those to be more effective in teaching through the pandemic and accounting for students during the pandemic."
      Students and faculty will always remember Mr. Bertasso for his leadership, innovative attitude, and of course, his antics on the roof of the high school. Under his direction, there was never a dull moment at 2400 Memorial Parkway. Now, expectations have been set for whoever is chosen as the next principal—and that person will have big shoes to fill.
Leave a Comment