UPDATE: Kentucky legislature overrides Governor Beshear's veto on school choice bill
     This is the third update to recent Hilltopper articles on this topic. Click here to read the original story, click here to read the first update, and click here to read the most recent update.
     Talk of a school choice program, similar to a voucher program that has taken hold in other states, first made waves earlier this year when a bill called House Bill (HB) 149 began circulating in the Kentucky state legislature. Following the bill's evolution and transformation, the debate regarding school choice has now come to a head.
     The contentious school choice bill, which has adopted the title HB 563, passed in the Kentucky state legislature two weeks ago. It was promptly met with a veto from Governor Andy Beshear, whose base support of educators advocated urgently against the bill. 
     Now, his veto has been overridden by the Kentucky state legislature. Monday afternoon, the House convened and voted 51-42 in favor of the bill. That same night, the Senate came together and finalized the override with a 23-14 vote of their own. HB 563 is now Kentucky law.
     Superintendent Dr. Karen Cheser, a vocal opponent of the bill, mentioned that she is disappointed by the override. 
     "HB 563 raises real concerns for our students and community due to decreased state funding as well as the inability to utilize criteria for tuition students," she said.
     Previously, Fort Thomas Independent Schools held extensive criteria to apply to attend the district as a tuition student. This included review of a candidate's grade point average and test scores from their previous institution, the past two years of their attendance and behavioral records, and special accomplishments or contributions to the greater community. With the enactment of HB 563, these criteria are no longer allowed. If a student and their family is able to pay approximately $5,100 in tuition to attend, their entrance to the district is guaranteed and protected.
     Senator Wil Schroder represents Kentucky district 24, which encompasses Fort Thomas. His district includes some of the highest-ranked public school districts in the state, including Campbell County Public Schools, Fort Thomas Independent Schools, and Bellevue Independent Schools. He made an impassioned speech in favor of the bill two weeks ago. 
     In this speech, Schroder mentioned, "This bill is going to impact students across the Commonwealth of Kentucky, students who go to public school and students who go to private schools."
     Some educators are speculating that Beshear may pursue legal action regarding this bill based on a Tweet he made Monday night. 
     He stated, "I'm a proud graduate of Kentucky public schools. I know firsthand the impact education has on our lives. I will always defend our educators and the children of Kentucky."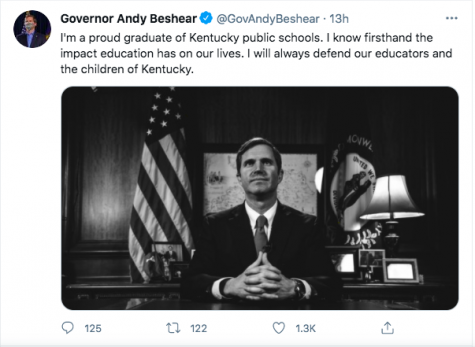 HB 563 is now law. The changes it will present to Kentucky education, and Fort Thomas specifically, are yet to be seen. More information is forthcoming, as this is a developing story.
Leave a Comment