BREAKING: FTIS announces Brian Robinson to be superintendent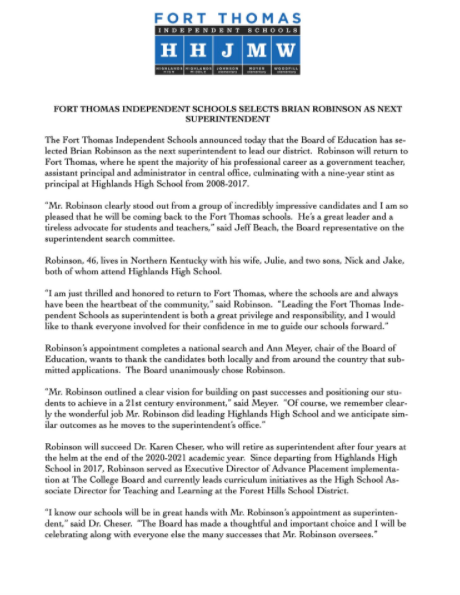 Today, on March 30, Fort Thomas Independent Schools (FTIS) announced that former Highlands faculty member Brian Robinson will be the new superintendent after Dr. Karen Cheser's retirement. 
Robinson started out his Highlands High School (HHS) faculty career as a government teacher, but he soon moved up in ranks. He served as assistant principal and administrator, and later as principal for a nine-year term. He left the HHS nest to pursue an executive position in advanced placement for the College Board. He then worked as High School Associate Director for Teaching and Learning at the Forest Hills School District where he led curriculum initiatives. 
Ultimately, Robinson felt the need to come back to his roots in Fort Thomas. 
The members of the FTIS Board of Education voted unanimously for Robinson.
In an FTIS press release, Robinson stated that he is "honored to return to Fort Thomas, where the schools are and always have been the heartbeat of the community." 
This article will be updated as more information surfaces.
Leave a Comment