Book Review: Of Mice and Men by John Steinbeck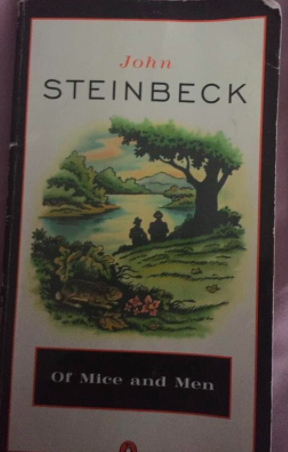 Last semester, my Pre-AP English I Advanced class tackled Of Mice and Men by John Steinbeck. Written in 1937, it provides interesting insight into how the Great Depression affected different people. Although this book was only a mere 107 pages total, it showed the importance of not only mental health but the hardships of dealing with it. Tugging at heartstrings, Mr. Steinbeck pulls the reader into the emotions of the book. 
     Of Mice and Men narrates the experiences of George Milton and Lennie Small, two displaced migrant ranch workers, who move from place to place in California in search of new jobs during the Great Depression. George and Lennie travel together throughout the cities in California looking for a place to stay out of trouble. Lennie has a mental disability, so the other characters often make harsh comments about the issues Lennie has with certain things. 
     One of these issues Lennie has is wanting to touch anything and everything soft. Oftentimes, this leads to larger problems, causing George and he to be run out of towns. Catching Lennie with dead mice over and over (because he likes to feel their fur), George shows anger and resentment of taking care of Lennie. Steinbeck perfectly captured the thoughts and feelings of each character. Additionally, his detail when describing the scenes gives the reader a sense of being there with the characters. However, it was horrifying to me that someone could write these words about something and have it be normal for that time. 
     Being the youngest in my family, my sisters have told me all about the books I would read in high school. To Kill a Mockingbird, And Then There Were None, Lord of The Flies, The Great Gatsby, and more. As a big reader, I was excited to start these books, even though I had no idea what they were about. Of Mice and Men was the first "classic" I read in high school. 
      Although the book was hurtful and is tremendously inappropriate in today's world, it told a beautiful story of friendship. George and Lennie have a special bond, and even though George does anger easily, he does care deeply for Lennie. Having to take care of someone you care about and not know what to do or how to make sure they stay safe is extremely stressful. 
     Of Mice and Men is a gorgeous story of pain, love, and companionship. I recommend this book and look forward to reading more stories.
Leave a Comment