Google doodles entertain the internet

     When one logs into Google on a day that has significance or anything that's important from history, they will see the Google logo, but with a twist.
     Most of the time, this twist is a picture, but sometimes it can be a game. 
     That is the famous Google Doodle.
     The first Google Doodle came out on September 14, 1998. It included the Burning Man in the doodle. Burning Man is a festival for creative people who want to come together and burn their art. Google co-founders Larry Page and Sergey Brin decided to change up the "out of office" by putting the Burning Man logo over the second "O." They did it to commemorate going to the Burning Man festival.  
     The Google Doodle has been a staple ever since. 
     The games have been among the most popular. 
     On May 21, 2010, Google released Pac Man for the 30th anniversary of Pac Man by releasing a game. It was the first playable Google Doodle ever.  In order to play, a person would click the "insert coin" button.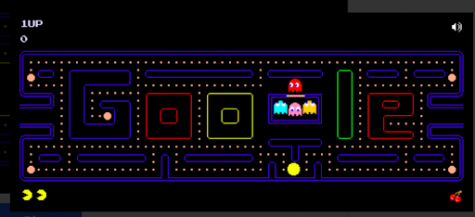 Google has also celebrated holidays, with Google Doodle games. 
     Google released a game on Halloween of 2016 with the main character being a cat. The cat was inspired by a real cat named Momo owned by Juliana Chen, a Google Doodle engineer.  On Halloween of 2020, it was re-released, but this time the cat was underwater.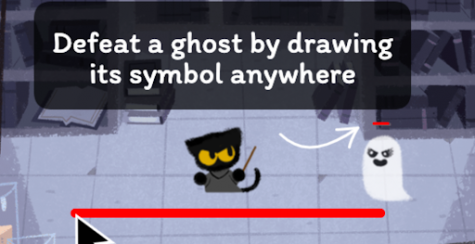 Google also has released other games here and there, just for fun. 
     In June of 2018, a game called "Celebrating Garden Gnomes," where the reader can be one of six characters, was released. The purpose is to launch one's gnome as far as possible, hitting mushrooms and shooting through hollow, fallen trees to gain speed and keep going.  

     At Highlands High School, many students look forward to the Google Doodles and the games. a former Highlands High School student participated and was a state finalist for a Google Doodle contest.
     Paul Tully, a 2017 Highlands alumni and current University of Cincinnati College of Design, Architecture, Art, and Planning student, is "keeping up with painting and drawing and other forms of art." Tully participated and was a state finalist in 2012 in a Google Doodle contest.
     Tully said, "Google sent me a T-shirt and a little certificate [for participating]."There is a Google Doodle contest every year including this year and you can enter at https://doodles.google.com/d4g/enter/.
     Google Doodle has become interactive as time has gone on. With games added and more detailed illustrations, the Google Doodle phenomenon has become well known on the internet, further exciting viewers.
Leave a Comment