"Tune in to tune out" with [email protected] live radio show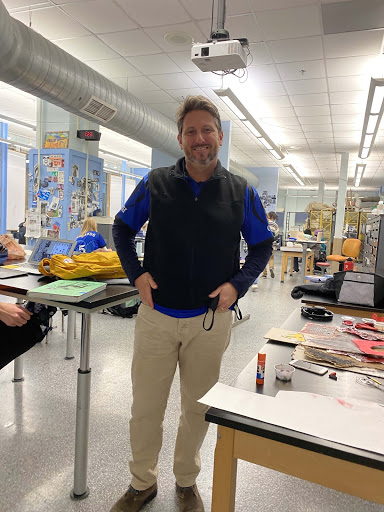 Highlands High School art teacher Andrew Eckerle wakes up and gets to school before 8:05 a.m. to prepare for his first art class of the day. He works all day until about 3:00 p.m., teaching students. Eckerle lives in a big classroom with a big glass window facing outside. Eckerle's classroom inside has a lot of desks, and when you walk into his classroom it smells like glue and pencils. Eckerle plays music during his classes, but the music sounds like old school music, something your dad might have listened to when he was young.  
      That is just his day job. 
      Every Thursday night Eckerle transforms.
      He gets in front of a microphone and plays music and talks softly. This microphone is located in Highlands High School's audio lab. If you were to walk down there when Eckerle was recording, you could see him through the big glass window of the audio lab.
      In this radio show, Eckerle plays music for about 90 minutes and talks about the music in between sets. It includes soothing music throughout the podcast instead of talking for most of the program.
       Eckerle's radio show is called [email protected] and he has been doing this radio show for a little over a year. A new episode airs every Thursday night at 8:00 p.m. with the help of the school's audio department.
      Eckerle said, "I wanted to be a part of the new radio station. Mr. Poff mentioned that they were going to start a radio show, so I told him I wanted to potentially do a show. He was kind enough to give me a time slot."
      [email protected] has blown up and is becoming more popular day by day. [email protected] has listeners from all over the country. 
       Junior Thaddy Sieverding, producer of E[email protected], has enjoyed the collaboration and radio show process. 
      "Ever since Mr. Poff had asked me to take over [email protected] I have been ecstatic to be able to work with Mr. Eckerle and produce a weekly show." 
       Producing a radio show is not only a lot of work, but it's also tedious. The production time on one of his shows can range from one to three hours, depending on the difficulty or topic of the show. Although it may sound like a lot of work, Sieverding finds it rather simple because of Eckerle.
      "The production side of [email protected] is pretty easy," Sieverding explained. "Eckerle takes care of all the heavy lifting. I just have to make sure he sounds pretty every week."
       Eckerle's radio show has definitely established more originality and authenticity throughout Highlands High School, as it is very rare to see in other school districts.
     Eckerle proudly stated, "I love doing the show. It's a new medium I've never worked with and it is a lot of fun to put together music each week."
Leave a Comment