A Date to Live Forever in Infamy: United States Capitol rampaged in unprecedented domestic terror attack
     On January 6, 2021, a rally for President Donald Trump in Washington, D.C., quickly devolved into what is being called by some a domestic terror attack, as hoards of armed citizens descended upon the U.S. Capitol. The nation was captivated by live footage of rioters breaking windows, drawing guns in the Senate chamber, and vandalizing the historic building's halls in an outright rebuke of the democratic process. Members of the Senate, who were directly involved with formal electoral college certification proceedings when the protests erupted, were evacuated and placed in secure locations. The unprecedented chaos, violence, and insurrection left in the wake of this attack forced leaders of the United States to confront the deeply-wrought divisions that have rapidly escalated in recent years. 
     In order to truly understand the events of the day and how they unfolded, a timeline is necessary. 
8:30 a.m.:

The first protesters are reported gathering. This was highly

anticipated, as President Trump was scheduled to have a rally later in the day to address the electoral college certification proceedings in Congress.

11:00 a.m.:

Ten protesters are arrested in front of the Capitol for carrying guns and 

ammunition. Senators arrived at the Capitol building and were met by a relatively small but fervent crowd of protesters.

12:00 p.m.:

President Trump holds a rally in front of the White House and falsely 

claims that the election was stolen from him. He emphasizes that he will "never concede." His son, Eric Trump, and President Trump's personal lawyer, Rudy Giuliani, also speak to the excitable crowd. Notably, Giuliani makes a comment promoting a "trial by combat."

1:00 p.m.:

Following President Trump's rally at the White House, the mob of 

supporters make their way to the Capitol and begin to push past the building barricades to get inside. The next 90 minutes would result in forceful clashes with Capitol police as rioters broke windows, occupied the House and Senate chambers, and invaded personal offices of elected officials.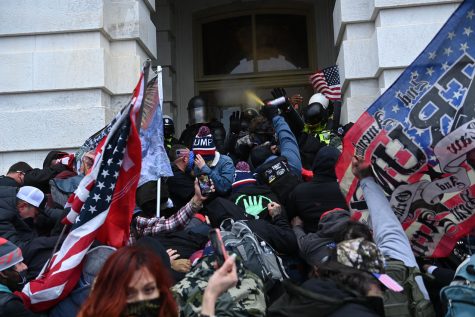 2:30 p.m.:

The Senate's electoral college certification proceeding is interrupted by an 

aide, who makes the announcement that protesters had successfully infiltrated the building. The Capitol is placed on lockdown, with Senators either being swept to safety in undisclosed locations or forced to shelter in place with gas masks.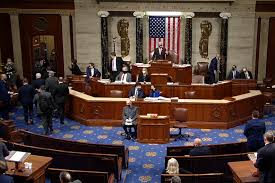 3:13 p.m.:

President Trump tweets a plea for the mob to remain peaceful, but does 

not ask them to leave. Prominent members of the Republican party, including close Trump friend and ally, former New Jersey Governor Chris Christie, begin speaking out to national media about the predicament and publicly asking the president to send the mob home.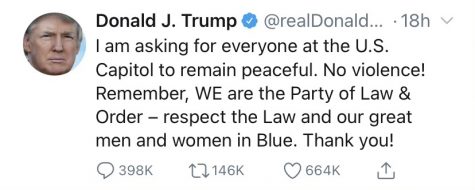 3:30 p.m.:

President-Elect Joe Biden goes on television to address the nation. He 

makes a plea with President Trump's supporters to stop the assault on democracy and emphasizes his future focus on reuniting Americans in the face of so much division. His speech began with a sobering message: "Today is a reminder that democracy is fragile."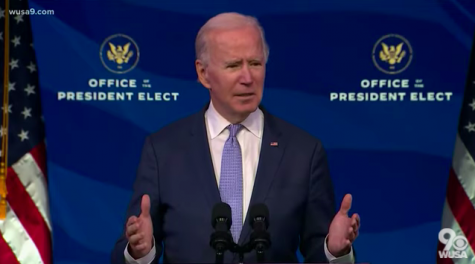 4:00 p.m.:

It is announced that the National Guard will be deployed to the Capitol, 

almost three hours after the uproar began.

4:17 p.m.:

President Trump releases a pre-recorded video addressing his base, 

falsely reassuring his supporters that the election was stolen from them, stating that he loves them very much and that they are "very special." He asks them to "go home and go home in peace."

6:00 p.m.:

After hours of disruption, chaos, and destruction within the Capitol 

building, it is finally given security clearance. It is announced that a woman who had been struck by a bullet earlier in the day died at the hospital. Washington, D.C., begins a mandatory 12-hour curfew.

8:00 p.m.:

The Senate reconvenes following the attacks to finish certifying the 

electoral college results. Despite many Republican senators having previously stated they would be objecting to certification of Joe Biden's win in some states, a significant number of those senators changed their minds in light of the day's insurrection. Kelly Loeffler, a Republican senator from Georgia, was one who initially planned to object. However, she stated on the floor,

"The violence, the lawlessness and siege of the halls of Congress are abhorrent and stand as a direct attack on the very institution my objection was intended to protect: the sanctity of the American democratic process."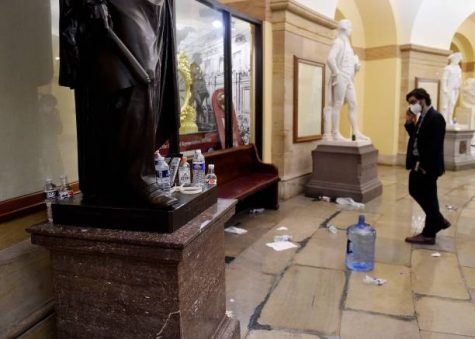 After a long night in which Republican bids to overturn the results in Arizona and Pennsylvania were overwhelmingly defeated, Joe Biden was officially certified as the next president of the United States. Any claims of voter fraud were proven false, debunked multiple times by countless state leaders, election officials, and courts. He is set to take office on January 20, 2021.
     Public outcry against the events that transpired has been directed at multiple parties. Many Republican leaders and lawmakers have come out and expressed dismay at President Trump's actions, some even blaming him for the day's attacks. From the left, questions have arisen in regards to the Capitol police's response in comparison with previous violent responses from police during Black Lives Matter protests over the summer.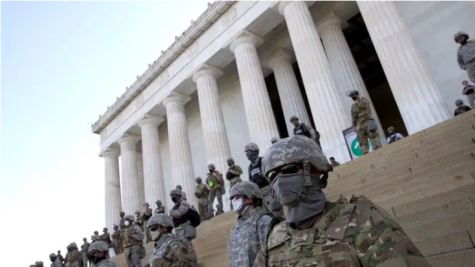 The day left Americans with more questions than answers. President Trump's Twitter account was suspended by Twitter and he is being threatened with permanent suspension from the social media platform unless he stops making false claims about the election results. Facebook also locked his account, citing a similar message. 
     The events have shaken Americans on both sides of the aisle, with a vast majority of both Democratic and Republican leaders speaking out against the violence and destruction that occurred. So far, four deaths have been reported as a result of the riots, and 52 arrests have been made at the time of writing, according to Reuters. 
     January 6, 2021, is now one of only a few dates in American history that will, in the recent words of Senate Minority Leader Chuck Schumer, "live forever in infamy."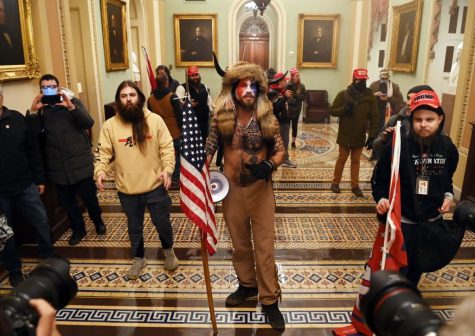 Leave a Comment