Say No to Drugs: Red Ribbon Week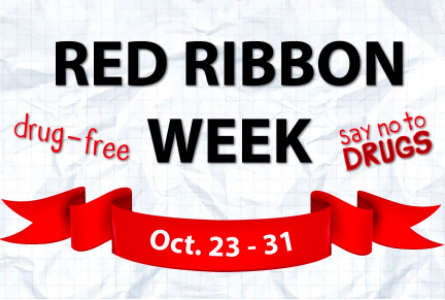 "Just say no."
     Those three words you will see a lot during one special week in the school year. This week is referred to as "Red Ribbon Week," a week in which students and teachers take action to put a stop to drug abuse.
     Since 1985, the Red Ribbon Campaign has become the largest drug-abuse prevention campaign in the nation. The National Family Partnership is a non-profit organization founded by parents who were convinced they should begin to play a large role as leaders in drug prevention. In response to the murder of Drug Enforcement Administration agent Enrique Camarena, angered parents and youth in communities across the country began to wear red ribbons as a symbol of their commitment to raise awareness and show sympathy for victims of killings caused by drugs. 
    Many schools across the nation take the initiative to create fun activities to teach students about the dangers of drugs. In middle school, for instance, a door decorating contest was used as a way to send a creative, thoughtful message about this crisis. The Red Ribbon Campaign hosts competitions for the most creative doors, houses, and photos. These competitions are just another way that the message can be spread to kids. 
    This organization started as a movement just in the United States, but, over the years, it has progressed to an international movement. This grassroots movement has affected hundreds of thousands of adults and kids, whether it was deterring them from the idea of drugs or helping them to stop using lethal drugs. 
     The Red Ribbon Campaign encourages students and teachers to take the initiative to help cease drug abuse and has been working in communities for decades. Get out there and motivate your friends and family to educate themselves on this topic.
Leave a Comment