More than 1,000 new COVID-19 cases in KY in past week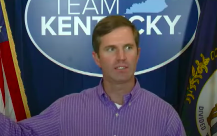 On Wednesday, September 30, over 1,000 new COVID-19 cases were reported, the third-highest amount ever recorded in the state of Kentucky (KY).
     So far in the year of 2020, September has been KY's deadliest month for the virus. An article from Spectrum News says the numbers have slowly increased over two consecutive days with Wednesday's update of 1,004 and one day later a near-record of 1,018 cases.
     According to The Courier-Journal, Governor Andy Beshear says with the high number of cases right now, October could be even worse. 
     "We have to continue to be committed to doing the things that are going to stop that escalation and a lot of that are just things that we have been talking about day after day," Beshear said.
     The cases of the virus in the Campbell County area have more than doubled in numbers between September 28-29 and have continued to fluctuate thereafter. These incoming statistics show how important it is that COVID-19 regulations and guidelines be followed by everyone.
     Sophomore Brianna Wise says, "It's unbelievable that the virus has had this much of an impact and can do so much in one day."
     Now that Highlands has gone back to school, it's important to remember that the more students that continue to follow guidelines, the better the process and outcome will be. 
Leave a Comment