COVID-19 rocks education at Highlands High School
"It's not a matter of if, but when," is a quote that's been heard throughout the halls of Highlands High School these past few weeks. Now, COVID-19 is making this fear a reality. 
In order to "flatten the curve," at least eight states, including Kentucky, have recommended that school districts cease in-person classes and move to non-traditional instructional (NTI) days.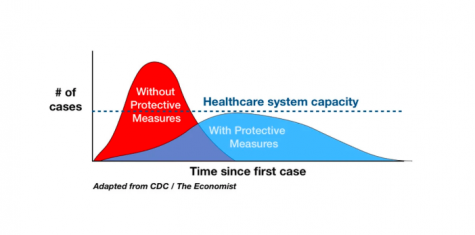 These NTI days, which are usually used for poor weather, are now being used to practice social distancing which will make the duration of the virus longer, but will make the number of cases lower, as to not overwhelm healthcare centers. 
COVID-19, which stands for Coronavirus disease 2019, is an infectious disease caused by a new virus. COVID-19 first began in Wuhan, China on December 31st, 2019, when several pneumonia-like cases were reported. Only nine days later, on January 8th, 2020, the Chinese Center for Disease Control and Prevention announced that 15 or more cases of coronavirus have been confirmed. 
Now, COVID-19 is a worldwide epidemic. 
In the United States alone, there are over 1,000 cases. In Kentucky, there are eleven confirmed.
In accordance with the  Kentucky Department for Public Health, Governor Andy Beshear made the recommendation on Thursday, March 12th to close schools and move to these NTI days starting Monday, March 16th. 
For the next two weeks, the Highlands High School building will be unavailable, alongside all athletic facilities including the track at Tower Park and the baseball and softball fields. However, schooling will continue as normally as possible, utilizing three important components: participation, submission, and communication.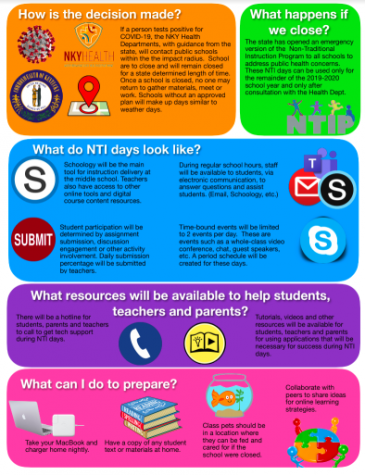 For participation, attendance will still be taken, but teachers will use different formats to take this attendance. For example, some teachers will be utilizing "likes" on Schoology posts, while some teachers will ask students what they had for breakfast on a Schoology discussion board. 
Chemistry teacher Del Ehemann said, "I'll be using web-chats to take attendance these next few weeks. My students need to keep up to date with assignments on Schoology, though. 
Submission, which just means submitting assignments, will be the same as normal, but everything will be through Schoology. Most teachers are planning on having their assignments due by midnight or by 8 A.M. the next morning. Each teacher will set their own parameters for attendance and submissions, though. 
Principal Matthew Bertasso said, "The expectation is to interact with all six classes every day, whether you're in your pajamas or on your couch."
Bertasso advised that students get on their computers fairly early in the day to interact with their classes. This includes checking to see what is assigned for the day and managing time and deadlines to see what one's schedule for the day looks like. 
Arguably the most important aspect of these NTI days will be communication. The main platforms that teachers will be communicating with students through will be Schoology and Microsoft Teams. 
On Microsoft teams, teachers will be able to "text," call, and video chat with students, and instruct them through timed events. These events are not mandatory for classes to hold on their given days, however, and will be decided at teacher discretion. 
Timed-events must be announced by teachers 24 hours in advance and can include live videos, discussion boards, etc.. They will last no more than 70 minutes and each class period will have their own day in accordance with a schedule, similar to the schedule on exam days. 
For all timed-events, the schedule is as follows: On Monday (March 16th) no timed events will be held due to students' need to adjust to the new schedule. Starting Tuesday, first and fourth period classes will be permitted to host a timed-event. Wednesday will be for second and fifth period and Thursday will be for third and sixth. Times for timed events for Early Bird classes have not been decided yet, but should be later today.
Since Highlands faculty and staff will be so dependent on technology these next couple weeks, a website and hotline have been created to help with technical difficulties. The website is http://nti.hhsbirds.com and the hotline number is (859)-815-2684. 
This school cancelation will affect outside of school activities as well. On the matter of all sports and extracurricular events, they will be canceled starting today, Friday, March 13th, after school, which includes the talent show, track practice, baseball scrimmage, and play rehearsals. 
According to Bertasso, of the 1000 students at Highlands, over 600 of them participate in some sort of extracurricular be it a sport, the theater program or a club. Although it is disappointing to cancel all of these events, it has been deemed essential by the Kentucky Department for Public Health and the Kentucky High School Athletic Association (KHSAA) in order to prevent assemblies of people, which can increase the spread of COVID-19. 
For sports, all track & field, tennis, baseball, and softball practices, scrimmages, and games will be canceled under order of KHSAA. This order can be described as a dead period, much like the one that occurs over summer break, and will last until April 12th. However, unlike the summer dead period, coaches are allowed to be in contact with their athletes and can communicate training plans and other information with their athletes.
Although coach/athlete communication is not prohibited, use of all Highlands athletic facilities including the track and soccer field, baseball diamonds, and football turf will be closed during the dead period. The fieldhouse and fitness center will also be closed and locked as part of the school closure to students and the public.
On to the matter of the school musical, The Secret Garden, all rehearsals and performances will be postponed until further notice. Tentative dates have been suggested for the performance but will not be confirmed until further information is received by Governor Beshear and the Kentucky Department of Health.
The talent show is also in the same boat and will be delayed until further notice. No date has been selected but the students reached a consensus Thursday evening that they want to present the show as soon as Highlands returns to regular in-school days. 
Clubs will follow the same protocol as all other Highlands events and will be postponed until NTI days are over. Once in-school days resume, clubs will resume per usual; however, any club events that are not hosted by Highlands may be canceled at the discretion of the state or school/location where they are to be hosted. 
On the bright side, both Prom and Prom to Dawn are still expected to be on April 18th, the original date.
Bertasso expressed, "Since coming to HHS, I've been so impressed with our ability to do great things even at a moment's notice. This is a great opportunity to learn together and continue to be the great school that we are." 
Leave a Comment