A Successful Opening Night: As You Like It debut at Highlands
Highland's Theatre made its debut of Shakespeare's classic, As You Like It, last night, November 1st. This play featured a small cast of 17 of Highland's most talented actors. The play began at 7:30 and lasted nearly three hours.
The story was at points very riveting, during the occasional (very realistic) fight scene, but there were also scenes that lost the audience's interest. This was due to the fact that it kept original Shakespearean language, which made the play somewhat confusing.
However, the actors did a fantastic job of conveying the emotions behind the language, and carrying out the plot through their actions and facial expressions. This helped those who can't understand the old language, which is most of the audience, pick up on what was going on.
One actor in particular did an outstanding job of expressing the meaning behind the play, and bringing life to her character. Junior Mehryn Toole played one of the main roles, Celia, in the show. Throughout the play, she completely embodied her character, making it hard to tell that she was even acting. Every little detail was on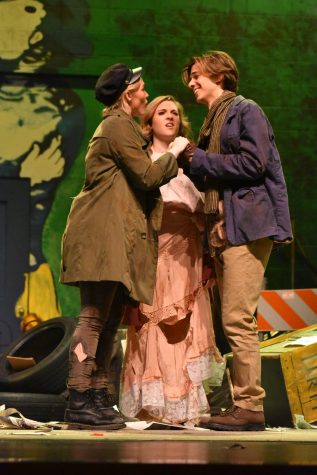 point, even when her character was in the background. Her expressions and body language made her character full of personality.
Despite the confusing Shakespearean language, the actors did a wonderful job of memorizing all of their lines. Every scene was clearly well rehearsed.
The setting of the play was meant to represent a dystopian land in the future. The set was very well made and realistic, with a lot of attention to detail, from the papers scattered on the ground to the 
graffiti on the walls. However, the set did not seem very relevant to the actual story conveyed in the play. There was no obvious mention of the dystopian world that it took place in.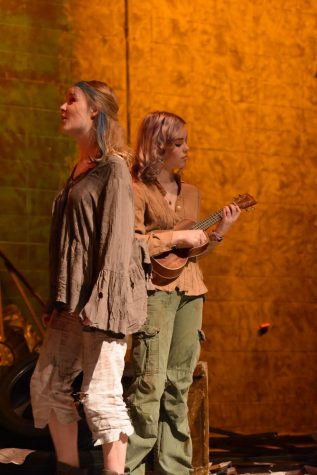 Even though the show was a play and not a musical, the audience still got a small look at the musical talent present among the actors. Zoe Zoller and Mattie Melson, sophomores, performed a short musical number during the show. Melson played a tune on the ukulele, and Zoller sang along, showcasing her beautiful voice. This aspect of the show added to the overall audience experience.
Overall, the play was very well executed and entertaining. If you are thinking about going to see it this weekend, you may need to consider reading a modern version of the play or a short synopsis to better understand the plot. The show will be performed again on Saturday, Nov. 3rd and Monday, Nov. 5th at 7:30 pm, and on Sunday Nov. 4th at 2:00 pm.