World War I, at the time called "the Great War," officially ended when the Treaty of Versailles was signed in June 1919. However, the fighting did not stop until seven months earlier. 
November 11, 1918, is generally, known as the end of "the war to end all wars." This led to the celebration of Veteran's Day.
Veterans Day continues to be observed on November 11th every year. No matter what day of the week on which it falls. The observance of Veterans Day not only preserves the historical significance but helps focus attention on the important purpose of veterans. 
Frank Henegar and Scott Schwartz, fathers of HHS Publications staffers Seniors McKenzie Henegar and Mya Schwartz, served in the armed forces and sat down with them to talk about their service. 
Frank's Story, told by his daughter Senior McKenzie Henegar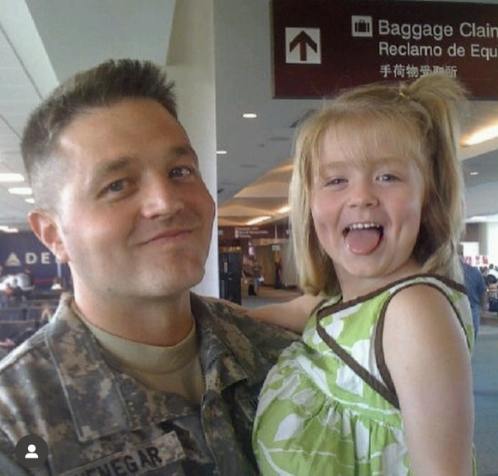 My dad, Frank Henegar, enlisted in the army before I was born. He decided to join because he wanted to make a difference and he needed discipline and structure. He was an indirect fire support. He had 16 weeks of basic training and advanced individual training combined. He trained for 10 years which included jumping out of planes and a lot of running, lifting, shooting movement over urban terrain, and mountaineering. for the last 10 years, he has served as a  cryptologic linguist. This included 18 months of intensive training at the Defense Language Institute. 
Henegar said: "The hardest part of my time was being away from my children for long periods." 
While my dad was deployed overseas, my mom had a big jar of Hershey's Kisses in the kitchen. Every day she gave me and my brother one and told us that when all of the kisses were gone, Dad would be home.
As a young child, I wasn't aware of what he was actually doing. I didn't understand why he was gone for so long and I missed him. Since then I have learned so much about my dad and to me he is an idol. 
He said: "I think that it's important always to support our veterans. Veterans sacrifice a lot for their country and simply being kind makes a big difference" 
Taking the time to honor our veterans on this day is important because it recognizes and shows appreciation for the sacrifices, service, and dedication of those who have served to protect us. It also serves as a reminder of the importance of military service and the values of courage, patriotism, and selflessness that veterans embody. Additionally, it provides an opportunity to support and show gratitude to those who have safeguarded our freedom and way of life. 
Scott's s Story, told by his daughter Senior Mya Schwartz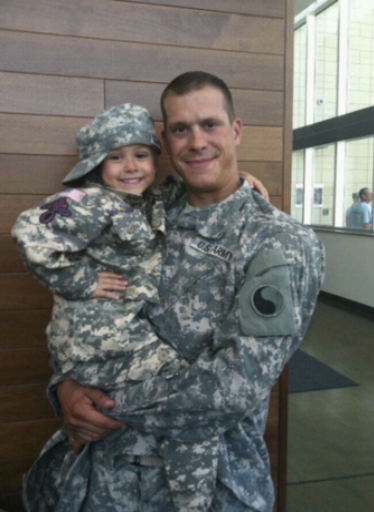 My dad, Scott Schwartz was in the army for 15 years. He enlisted in 2008 when I was 2 years old. He got custody of me and wanted to turn his life around.
One of the main reasons why he joined was because he needed a sense of discipline. 
Schwartz stated, "I was a troubled kid and needed some discipline."
 With not only the weight of learning he had a child, he also had to maintain all of the responsibilities in the Army. 
My father had a lot of different "jobs" during the 15 years he was deployed. 
"At first, I was a welder. You have to go to school/class for 16 weeks at AIT (trade school) for 4 years. I reclassed and went to 11 bravo, which is infantry, and then after I finished in Iraq and Afghanistan I went to be a drill sergeant."
While he was away I stayed with family, I was young and had no idea what was going on at first. Throughout the years I started to think of him as a hero. 
He thinks that Veterans Day is a big opportunity to support the legacy. 
Schwartz said: "It has more to do with the legacy and what they all stand for past and present than individual soldiers." 
He had to deal with many challenges while he was overseas. 
Schwartz stated: "Getting shot at, the combat is always challenging but the most are the sheer boredom and going numb and crazy waiting for something to happen all the time, the heat was a whole other beast, sand everywhere, never feeling clean."