Juli Russ Speaks Out: "We are the generation that will be affected most"
Today, March 15th, thousands of kids worldwide are skipping school in order to protest climate change. One of those students happens to be sophomore Julianna Russ, a student at Highlands High School.
Climate change has been an ongoing problem for the past decades. Fox News wrote that "Every year of their lives has been one of the warmest recorded. Extreme weather events, including floods, wildfires and heat waves, are becoming the new norm."
The #FridaysForFuture movement is what inspired the global climate strike. This movement inspires students to strike out against climate change. #FridaysForFuture was founded by Greta Thunberg, who is a Swedish 16-year-old environmental-activist.
She started this movement by skipping school. Every Friday, starting in August of 2018, she would skip school in order to protest outside of Sweden's parliament.
These protests have expanded into a worldwide organization in over 98 countries. Australia, Thailand, Uganda, and the United Kingdom have students planning to skip school in order to protest climate change.
Although some people, including the United Kingdom Prime Minister Theresa May, have warned students to not skip class, Thunberg is still standing her ground.
In response to these warnings, Thunberg tweeted, "Ok. We hear you. And we don't care. Your statement belongs in a museum. #FridaysForFuture #ClimateStrike #schoolstrike4climate."
This organization has now spread to Fort Thomas, Kentucky with Julianna Russ.
Russ has been following the actions of climate activists for some time now. It has now become a burning passion for her, and now she has organized the climate strike in Lexington.
"When I saw a friend of mine within the activism community post about the strike asking for people to start organizing, I emailed the national organization," Russ explained, "They set me up with Emily Johnson from Bourbon County High School, and together we have organized the strike in Lexington, KY."
Russ believes that climate change is one of the most pressing issues of our time, yet no one in legislation is paying any attention to this topic.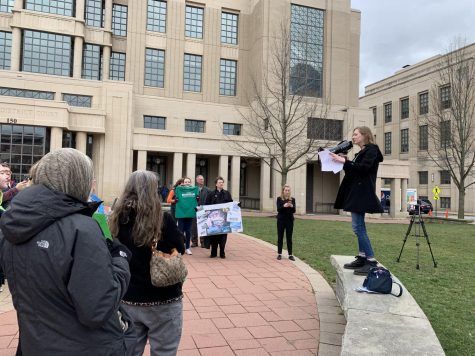 The effects of climate change have heaps of scientific evidence that prove it is not only real but an outcome of human action.
"Anyone denying those plain and simple facts are looking out for the interests of their pocketbooks, not the Earth or the people living on it," Russ stated.
Russ plans to speak out at this strike along with 5-6 other high school students from all over Kentucky. Her speech is going to cover three main points:
The impact that youth activism can make.

Why our generation has a responsibility to step up.

Further actions to take regarding endeavors against climate change.
With this experience, Russ truly believes that the power of activism is a form of learning in and of itself.
The global youth climate strike, and more specifically the U.S. youth climate strike, was inspired by the actions of Greta Thunberg, and now similar actions in Fort Thomas may be inspired by Julianna Russ as well.
Leave a Comment